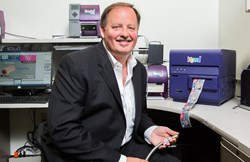 West Warwick, RI (PRWEB) August 21, 2013
QuickLabel Systems, an Astro-Med, Inc. (NASDAQ: A LOT) business unit, has released a video detailing how Quick Fitting, the leading manufacturer of push connect plumbing technologies, has cut labeling costs by printing their own labels with the Kiaro! inkjet label printer.
The new video can be viewed on the QuickLabel Systems website on the QuickLabel blog and on QuickLabel's YouTube channel at Youtube.com/QuickLabel.
Quick Fitting, Inc is a Warwick, RI based manufacturer that won the 2005 and 2008 Plant Engineering Product of the Year awards for their innovations in Push-Connect plumbing technologies, including their ProBite™ and CORPO brands. Quick Fitting fittings and valves can be purchased at Lowe's, Tractor Supply, Ace Hardware, and other major retail stores.
Recently, CEO of Quick Fitting, David Crompton purchased the Kiaro! inkjet label printer in order to control inventory, reduce costs, and increase the efficiency of their product labeling.
"The Kiaro! gave us the ability to get exactly what we needed, to create our labels just-in-time, and it cut our cost on those labels by about 40%," said Crompton, "we don't build up our inventory anymore, we don't have any dead money sitting on the shelf. It's been absolutely phenomenal."
Quick Fitting – a Leader in Innovation
Quick Fitting is an industry leader in many categories of plumbing technologies, "not the least of which," said Crompton "is innovation".
Quick Fitting invented a product called push connect plumbing, which is a product that takes glues, crimping, and soldering completely out of the plumbing equation. No torches. No expertise required.
"With our product you just simply push the fitting onto the tube and it creates a seamless perfect connection in a few seconds," explained Crompton, "It really takes relatively no time at all to learn how to use the technology."
"I guess the bottom line," Crompton said, "is anybody can do it."
Creating this product required a lot of moving forward. It required forgetting everything that was the norm in the plumbing industry. It meant being innovative. It meant a new way of doing labels.
Moving forward is important to a company with 5 US patents, and 11 more patents pending. Moving forward is important to a company with major retail accounts.
There's no time to waste with elongated shipping procedures and slow moving label printers.
Meeting Retail Standards for Labeling
"There are incredibly stringent retail-packaging-standards all the way from how the product is bagged, to censor codes, to the barcodes that appear on the individual bags or boxes," said Crompton.
Every single label has to meet retail and wholesale standards to exact specifications every single time – and they still need to look great.
"The Kiaro! labels look phenomenal," said Crompton, "the quality of the label that we get from the Kiaro!... is better and more consistent than the labels that we were getting from the outside."
Mr. Crompton explains that the most important factor, the number one criteria for selecting a label printer was the quality of the label it created. And that's why he went with Kiaro! Its quality, its consistency, and the durability of the labels it creates.
Plus, he said, "Quick Fitting has a lot of different products, a lot of different packaging, and a lot of different features to those products. The Kiaro! enables the company to print labels for every product variation – every SKU – on an as-needed, on-demand basis," said Crompton.
Just In Time Production
"Retail customers may change an order," explained Crompton, "they may style it differently from month to month, which meant that we were forever shifting the label demand that we currently had in stock."
In order to ensure that he had the right labels in stock exactly when the customer wanted their orders for plumbing valves and fittings, he had to order out for more and more labels, and keep the cycle of wasted excess labels churning.
"We had more and more paper," said Crompton, "and more and more expense on the shelf."
The just-in-time production process also gave them enhanced quality control. Eric Sanches, production manager at Quick Fitting, saw an immediate 80% drop in production time.
"When using the Kiaro! we actually get to see the labels printed right in front of us," said Sanches, "If there are any mistakes in the label design, you get to fix them, right then and there, versus receiving labels from an outside printer, and they're all wrong and you have to wait days just to get correct ones. It cut our time by more than 80%."
"We're excited to see the Kiaro! being put to use in a state-of-the-art facility like the one at Quick Fitting," said QuickLabel Vice President and General Manager, Eric Pizzuti. "Helping such an innovative company transition to a just-in-time manufacturer is something from which we've taken tremendous pride."
Labels Ready for Same-Day Shipments
The Kiaro! has given Quick Fitting, "the flexibility that we didn't have in the past," said Crompton.
Quick Fitting ships thousands of packages per day and when they had to buy pre-printed labels from an outside print-house, "If we ran out of labels in the course of the day - or we were even short 30 labels - we were short from completing a shipment."
This meant that the whole production had to delay, while waiting for more pre-printed labels to arrive, something that can take more than a week. "With a Kiaro!," continued Crompton, "we just simply walk over to the unit, print off some more labels, they complete the shipment and it's out the door."
"The Kiaro! eliminates the need to park your money, and have labels with no cash value just sitting on the shelf," reiterated Crompton, "it gives you the ability to go to just-in-time inventory, and it's going to give you a label that's absolutely perfect."
The Kiaro! Saves Money AND Time
The Kiaro! comes with Custom QuickLabel, an intuitive, easy-to-use label creation software that accepts images of all kinds and prints them directly to the Kiaro! The labeling software is fast, and the label printer is even faster. It prints in its 1200 dpi quality at 8 inches per second – that's 40 feet of label material per minute!
About Quick Fitting
Quick Fitting provides innovative, repairable quick connection fittings, valves, stops, PEX and accessories for Copper, CPVC, PEX and Stainless Steel plumbing, heating, compressed air, inert gas and fluid applications. Quick Fitting's push technology offers significant benefits over conventional and competitive alternatives. ProBite™ fittings are easily installed, reused or even repaired. Quick Fitting manufactures a broad selection of push connect products in Copper, Brass and Lead-free compliant Brass. For product information on all quick fitting brands visit http://www.quickfitting.com or find them at Lowe's or other plumbing retailer stores.
About QuickLabel Systems and Astro-Med, Inc.
QuickLabel Systems is a leading manufacturer of digital color label printers used by manufacturers and processors who want to print their own labels in-house, as well as barcode label printers, thermal transfer ribbon, labels, and custom label printing services. QuickLabel Systems is a brand of Astro-Med, Inc., a manufacturer of high tech specialty printing systems and data acquisition systems for test and measurement. Astro-Med, Inc. (NASDAQ:ALOT) is a member of the Russell Microcap® Index. Additional information is available by visiting http://www.QuickLabel.com. Keep up with QuickLabel Systems on Twitter at http://www.Twitter.com/QuickLabel and on Facebook at http://www.Facebook.com/QuickLabel.