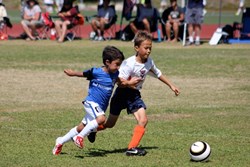 "I predict that these young men should dominate at many age brackets as they advance," -- San Diego Surf Coach Mario Mrakovic
San Diego, California (PRWEB) August 16, 2013
On Saturday, August 10, San Diego Surf Coach Mario Mrakovic led the U7 Boys to a crushing 10-2 win over the San Diego Soccer U8 to capture the San Diego Premiere Cup. Mario is widely regarded by many as being one of the best youth soccer coach in the United States. When asked what factors he felt contributed most to the Surf's success against the older players, Coach Mrakovic noted, "This result has a lot to do with the fact that for five months, our U7 Boys team has been playing in U9 leagues around the San Diego area. We did not win very many of those games, but it taught our boys how to be tough and how to play against older boys."
A native of Croatia with nearly 4 decades of experience, Mrakovic noted that the Surf's continuing success can be attributed the new leadership of Surf Technical Director, Wayne Harrison, under whom the Surf embraced a new soccer curriculum and adopted Harrison's fundamental philosophy focused on positional play, passing the ball, and teaching the young players to be disciplined. According to Mrakovic, "This is a new era for youth soccer at The Surf. It is a new generation of players. The fact that this U7 team won in a very competitive U8 bracket proved that they are very good." As to the "secret formula" for the Surf's continuing success, Mrakovic intimated that "We are focused on teaching them how to play quality soccer, which involves lots of passing; maintaining their position; and making smart decisions with and without the ball." San Diego Soccer BU8 Manager Oscar Eusebio described the Surf's victory as being, "very impressive that a U7 team could come into U8 division and control the tone and tempo of every match."
When Mrakovic was asked about the future of both the Surf U7 Boys and individual players, he went on to state that "The fact that we won the final championship match 10-2 against a very good team proves that what we are working on is effective. I predict that these young men should dominate at many age brackets as they advance."