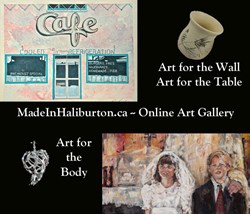 A great way to see a sampling of the work from this fabulous online art gallery!
Toronto, Ontario, Canada (PRWEB) August 27, 2013
Ten artists from the online art gallery MadeInHaliburton.ca will be representing the work of the gallery at Artfest in the Historic Distillery District of Toronto from August 30th to September 2nd, 2013. Open each day from 11:00 to 6:00.
Artfest Toronto, in its 7th year, is emerging as one of Toronto's favorite summer art shows. Tents are set up throughout the cobblestone walkways of the Distillery District and provide an abundance of artistic variety for the visiting public. Best of all there is no entry fee.
MadeInHaliburton.ca is a juried, online art gallery of over 50 artists and artisans who live or cottage in the artistic community of the Haliburton Highlands, Ontario, Canada. The work is juried by a committee of the Arts Councl~Haliburton Highlands before an artist is admitted as a member of the gallery. This assures the quality of the work that is presented by the gallery and provides the buying public with confidence that they will receive a quality product. Please come out to see the work first hand. If you don't purchase at the show note that items can be purchased online 24 hours a day, 7 days a week, 365 days a year.
Artists who are participating in the event are:
Barbara Joy Peel a potter who loves to explore new ideas. Her work is largely wheel thrown but, she loves to experiment with slab work and to bring the inspiration provided by the natural beauty of the Haliburton Highlands into her work.
Brent McGillivray captures disappearing urban and rural artifacts in bright and eye pleasing watercolour paintings and prints. His inspiration comes from his work as a set designer and art director in the Toronto film industry. In this capacity he was exposed to, and recorded through photography, many vanishing historic sites and graphics that he now captures for perpetuity with his painting.
Charlene McConnell is a potter who works in stoneware and porcelain to create fun and functional items. Charlene uses the potter's wheel, slabs and extrusions in her designs. Her work is often influenced by the magnificence and enormity of the Haliburton Highlands landscape; her forms are fluid and voluminous with graceful curves and understated elegance.
Dani Stahl creates sculptures using her natural artistic intuition and love of colour to create with mixed media, recycled and upcycled materials to produce visually stimulating results. Her study of sound and movement enable the creation of life-like poses in her sculptural puppetry and doll creations. Her figures sometimes reflect real life and often times take the viewer on a fantasy journey.
Gord Jones is a water colour artist who states that he "paints to selfishly communicate his impression of what interests him and hopes that it interests others as well". Gord is a newly elected member of the Canadian Society of Painters in Watercolour (CSPWC). You can almost see motion in the realism of his landscape work.
Laurie O'Reilly is an observer and a visual story teller. She chooses to work predominantly in the figurative genre because she feels that it has the ability to speak to time and place in a unique manner. Laurie works to balance realities - the sweet with the harsh. She also endeavours to create paintings that are open enough, both thematically and technically, to invite the viewer into the process.
Margery Cartwright works with medium-fire stoneware and porcelain to create functional pottery. Her signature pieces are often adorned with an appliqué of an acorn a fact which gave birth to her nickname "the acorn lady". The ivory finish to the pieces give them a luxurious and appealing appearance that is the perfect accent to any dinner table.
Pat Reynold's love of traditional quilt making quickly turned into a passion for the creation of fibre art. Her pieces are often 3 dimensional and add warmth and appeal to any room in which the finished work resides.
Sophia Tink describes her work as "Individualistic, imaginative, and identifiable". She loves to create jewellery art pieces using traditional and non-traditional techniques. Her art pieces are hand sketched, sculpted, finely detailed and finished to the highest metalsmithing standards. Quality and sensibility are of equal importance to this meticulous jeweller.
Susanne James, potter, seeks to evoke the beauty of her natural surroundings -- the water, granite and leafy forests of this Canadian Shield region. Susanne's work is almost always made to be functional as well as beautiful to look at. She concentrates on simple forms, subtle and natural colours, and organic shapes.
There is something for everyone, with a broad selections of styles and tastes!