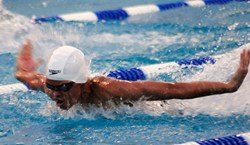 Lynchburg, VA (PRWEB) August 15, 2013
Michael Andrew, the youngest American swimmer to sign a professional endorsement deal, has now joined the more than 2,000 students who are enrolled in Liberty University Online Academy, which provides Christian online home schooling to students in grades 3-12.
Andrew, a 14-year-old Kansas resident, was featured on swimswam.com and in Sports Illustrated in June after becoming the youngest swimmer to go pro. He drew immediate comparisons to 18-time Olympic gold medalist Michael Phelps, who turned pro at age 16 in 2001.
Now, he has broken one of Phelps' records. On Aug. 9, he smashed two National Age Group records on the last night of the USA Swimming Junior National Championships in Irvine, California. He slashed nearly a second and a half off Phelps' 200-meter Individual Medley mark, set in 2000. Andrew now holds 12 NAG records.
Both Andrew and his younger sister Michaela, who also recently enrolled in Liberty Online Academy, are seeking to accelerate their home-school education supervised by their mother, Tina.
Studying online will enable Andrew to pursue his dreams of making the U.S. Olympic Team for the 2016 Summer Games in Rio de Janeiro, Brazil. It will allow him time to travel around the world for international meets and train at home under the watch of his father, Peter.
Already a year ahead of his peers, Andrew is entering 10th grade and plans to finish high school by age 16. Additionally, with Liberty Online Academy's Dual Enrollment option, he can begin taking college courses as soon as next year.
"One of the main reasons we're changing, first and foremost, is the Christian curriculum and the fact that Michael can work ahead and get his schoolwork done," Tina Andrew said. "We're hoping to get high school done as quickly as possible and to start taking dual credits toward an undergraduate degree."
Dean Jay Spencer said the program's flexibility allows students enrolled in the academy to manage their time more effectively through independent study.
"Students come in with us and they realize they're now in control of their education," he said, noting a typical school day spans three to five hours. "There's a tremendous amount of freedom in there. That is why an athlete like Michael sees the benefit of the program because he can schedule his schooling around his swim training, rather than the other way around."
For similar reasons, the program has attracted other elite athletes, including 15-year-old triathlete Stone Dyson, who also recently enrolled after competing in last month's Junior National Championships in Ohio, and middle school gymnast Alexis Stokes, as well as budding actors and actresses.
By signing a pro contract (with South Africa-based P2Life nutritional supplements), Andrew will never be able to swim for an NCAA program, but he has higher aspirations.
"(This) was my decision," Andrew said. "We all prayed about it as a family. We don't feel we're missing out on too much. The goal is to finish high school by 2015, the year before the Olympics, when I'll just focus on training for that."
Andrew, who is already six feet, four inches tall and wears size 15 shoes, inherited the athleticism of his parents, who moved from South Africa to the U.S. before he was born in Minnesota in 1999.
Besides the physical attributes they passed onto him, Andrew is thankful for the spiritual upbringing his parents have provided.
"They help with my spiritual walk and we do quiet times together in the morning and evening," he said.
He realizes that achieving his academic and athletic goals simultaneously will be extremely challenging and require a tremendous amount of discipline.
The young teenager is not only ambitious, but zealous to serve the Lord.
"I want to be a shining example for God and to glorify Him in all I do," Andrew said. "(God has) given me these gifts to break records and compete in the Olympics as a platform to spread His Word to as many people as possible around the world."
Andrew's role model as a Christian athlete is New England Patriots quarterback Tim Tebow, who spoke at Liberty's March 8 Convocation.
Andrew hopes to revolutionize the sport of swimming through the Ultra Short Race Paced Training (USRPT) techniques his father has adopted from Dr. Brent Rushall, an exercise scientist at San Diego State University. He plans to apply similar principles to his schoolwork, focusing on short, intensive periods of study rather than long, drawn-out home-school sessions.
Due to Michael's rigorous training and demanding travel schedule, Tina said she doesn't want to overwhelm him academically, instead focusing on one course at a time.
"He is incredibly smart," she said. "From what we've seen, he's set such a high standard for himself in everything he does. He loves math and he's phenomenal with it. But to do a heavy load of schoolwork, he could get stressed out."
Liberty Online Academy, which started in 2007 with 35 students, ended this past academic year with 2,100 enrolled domestically and internationally, including many American children of missionaries and military personnel serving overseas.
In June, Spencer traveled to Beijing and Shanghai, where he established partnerships that will allow students to earn both Chinese and English high school diplomas, increasing their chances of being accepted into colleges in the United States.
"The China program is just getting started and we've partnered with three schools," he said. "We're expecting 80 to 100 students this fall and next year that could grow to between 300 and 500."
Liberty University, the world's largest Christian university, offers courses for online high school and elementary students (grades 3-12) through Liberty University Online Academy. Its structured, yet flexible, home schooling curriculum is tailored to fit each child's unique needs and personality.
About Liberty University
Liberty University, founded in 1971, is the largest private, nonprofit university in the nation, the largest university in Virginia, and the largest Christian university in the world. More than 100,000 students attend classes on its 7,000-acre residential campus and study in its thriving online education program.