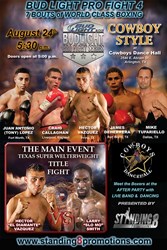 "I am ready for the next step in my career and will prove it on the 24th," said Vazquez.
Arlington, TX (PRWEB) August 16, 2013
Hector "El Diamante" Vazquez 9-1 2 KO's of Irving returns to the Bud Light Pro Fight Series boxing ring as the main event on Saturday, August 24, 2013 in Arlington, Texas at Cowboys Dancehall. After wrapping up a 165 fight amateur career that included a win over Adrian Broner and an alternate spot on Mexico's Olympic team, he looks to make his mark in the pro ranks. He will get his opportunity when he faces grizzled 26 fight veteran Larry "Slomoshun" Smith of Dallas in an 8-round contest for the Texas Super Welterweight Title.
Vazquez says "I have known Larry for a long time and know that I have to be prepared for this fight. He always comes to fight and has been in there with some of the best prospects around. I am ready for the next step in my career and will prove it on the 24th."
The 10-16 (7 KO's) Smith says of the fight, "This is my fight. I have always wanted a title and I will win one on the 24th. Sometimes you go on the road and don't get the nod when you deserve it. This fight is at home, but I am not taking any chances. You will remember that I have power when I catch Vazquez and when I do, it will be good night."
In the 6 Round co-main event, rising JR. featherweight and Fort Worth star Tony Lopez 5-0 (2 KO's) takes on upset minded Ricardo Valencia (4-3) of Houston. Lopez has had a big first year so far with an appearance on national television and on the undercard of an HBO televised event. When asked about his first 6 round contest, Lopez states "This is something I wanted as it is my goal to be a world champion. This is something that I have been hungry for since I was a kid. The distance will prepare me for the future". The man opposing him on the other side of the ring is not one to overlook. Valencia has already been in there with top prospects and has upset a few. The fight could be a show stealer.
The card will feature local hardnosed veteran Alexander Lopez 6-5 (1 KO) of Fort Worth versus 4-0 (1 KO) Kendo Castaneda of San Antonio over four rounds in the lightweight division. It will also feature exciting featherweight James De Herrera 2-0 (2KO's) of Fort Worth, largely popular 38-year old Super Middleweight Mike Tufariello 1-0 (1 KO) of Carrolton and Ann Wolfe trained Lightweight Travell Mazion 2-0 (2 KO's) of Austin, TX.
Standing 8 Promotion continues the 2013 Bud Light Professional Boxing series with Bud Light Pro Fight #4, a 7-bout event on August 24, 2013, at Cowboys Dancehall in Arlington, TX. The first bell will sound at 5:30 p.m. The will take place at the Cowboys Dancehall (up the road from Cowboys Stadium) located at 2540 E Abram St. Arlington, TX 76010. Tickets, starting at $30, are available at http://cowboysdancehall.inticketing.com/events/335076 or by phone at (817) 265-1535. The month of August marks the 1 year anniversary of Standing 8 Promotions. Within the last year, they have presented 8 fight cards and grown a strong and loyal following.
For more information on this event or its fighters visit http://www.standing8promotions.com or like Standing 8 Promotions on Facebook https://www.facebook.com/Standing8Promotions/.
About Standing 8 Promotions
Standing 8 Promotions is Texas' largest boxing promotion company. In addition to promoting rising star boxers like Tony Lopez, Craig Callahan, and Victor Vazquez, James DeHerrera and Mike Tufariello, Standing 8 holds boxing events known for great fights and great entertainment on a continuous basis in the DFW Metroplex. Standing 8's next event, Bud Light Pro Fight Series Fight #4, will take place in Arlington at Cowboys Dancehall. Other Standing 8 venues include The Hurst Conference Center and College Park Center in Arlington. You can learn more about Standing 8 Promotions or purchase tickets for Bud Light Pro Fight #4 at http://www.standing8promotions.com. Tickets may also be purchased at the door. The remaining fights for the Bud Light Pro Fight Series are scheduled for October 12, and December 7, 2013.