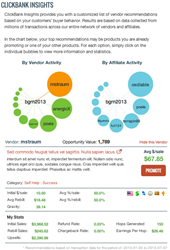 Boise, ID (PRWEB) August 20, 2013
ClickBank (http://www.clickbank.com) announced today the launch of a new data-driven e-commerce suite called ClickBank Insights on its digital platform, which is already used by more than one hundred thousand online businesses and distribution partners. ClickBank has extensive visibility into the entire transaction process, and the new data-driven e-commerce suite gives distribution partners access to valuable information that can help them quickly and effectively determine how to best promote these online businesses whether its on their website, blog email, or social media.
Recommendations shown on ClickBank Insights are based on historical event data collected over the past 15 years, such as related products viewed or purchased by consumers, and is deeply integrated into the digital platform. Online businesses and affiliates of one of the largest distribution platforms for digital content can access ClickBank Insights for the first time today, and find leading e-commerce opportunities that can drive overall performance and profitability.
ClickBank Insights launches just three months after Matt Hulett took the helm as Chief Executive Officer of the company. Hulett was hired to lead new growth strategies for the digital platform company by strengthening and expanding end-to-end client and customer experiences. This is the first time that ClickBank has opened its internal data to its distribution partners, and the data-driven e-commerce suite is the first step towards a broader vision for the digital publishing platform.
"Big data is an essential part of operating any online business today, yet many tools are underserving independent e-tailers and their distribution partners," said Hulett. "ClickBank Insights is designed specifically for online businesses and their distribution partners who specialize in digital goods, and uses a highly proprietary algorithm that taps hundreds of millions of historical events, and delivers the most relevant information through a clean interface."
The ClickBank platform provides a suite of publishing, e-commerce and marketing tools designed to help entrepreneurs in the business of selling digital goods and educational content across a wide range of topics from cooking and diet to business and finance. The ClickBank platform, which has one of the most reliable and simple e-payment systems in the world, has already paid out more than $2.5B in the past 15 years to its partners. As a result of the new ClickBank Insights feature, the company expects the number of payouts to dramatically rise in 2014.
For more information, please visit ClickBank.com.
About ClickBank
ClickBank (http://www.clickbank.com) is a digital platform company offering a compelling suite of tools that has already helped more than 100,000 people create, manage, promote and sell e-books, audio tracks, videos and more through dedicated websites. Collectively, users of ClickBank's platform have built a portfolio of over 60,000 digital products across thousands of niches that teach others a spectrum of skills—from decorating cakes or wine-making to starting your own catering business or building a chicken coop. ClickBank is consistently ranked as one of the most highly trafficked sites on the web, generating about 30,000 digital transactions a day across more than 190 countries. ClickBank, a subsidiary of Keynetics Inc., was founded in 1998 and is based in Boise, ID.
ClickBank and its respective logos are trademarks, registered trademarks, or service marks of ClickBank. Other products and company names mentioned are the trademarks of their respective owners.
Media Contacts:
Tina Qunell
Rubii Media For ClickBank
(206) 919-9652
tina(at)rubiimedia(dot)com