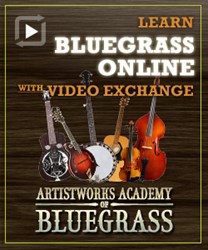 None of these world-renowned performers are strangers to IBMA Awards. Raines has won eight, Sutton has won seven and Trischka has won six.
Napa, CA (PRWEB) August 16, 2013
Leading social e-learning platform provider, ArtistWorks today announced that three instructors in their Online Academy of Bluegrass are nominated for International Bluegrass Music Awards.
Banjo legend and online instructor Tony Trischka has been nominated for Instrumental Recorded Performance of the Year for his contribution to the song "Foggy Mountain Rock" of the album Foggy Mountain Special: A Bluegrass Tribute to Earl Scruggs. Online Bass School instructor Missy Raines is nominated for Instrumental Performer of the Year for Bass and Online Flatpick Guitar instructor Bryan Sutton is nominated for Instrumental Performer of the Year for Guitar.
None of these world-renowned performers are strangers to IBMA Awards. Raines has won eight, Sutton has won seven and Trischka has won six.
The 2013 IBMA Award nominations mark another year of recognizing ArtistWorks Academy of Bluegrass instructors to be the world class performers they are. It's also another reminder to average players everywhere that they can actually get personalized Video Exchange™ Feedback from these and other bluegrass greats for less than the cost of lessons from "the guy down the street".
Established in 2011, this revolutionary online school gives members access to a comprehensive library of pre-recorded videos online to hone their skills at their own pace.
Unlike traditional one-way video learning where students can become stuck trying to put techniques into practice, members of the Academy of Bluegrass are enabled to submit practice videos for Trischka, Sutton, Raines or the other AOB all-star teachers to review and respond with their own video containing personalized feedback and additional instruction.
These Video Exchanges are paired together on the site and made available for all members to learn from, creating an ever evolving virtual master class online. With regular expert feedback on their technique, members report significant improvement in a remarkably short time.
ArtistWorks Academy of Bluegrass is designed for absolute beginners to seasoned pros – anyone who has the passion and the desire to play.
The ArtistWorks Academy of Bluegrass also features past IBMA Award winners and nominees, Mike Marshall teaching mandolin, Darol Anger teaching Fiddle, and Andy Hall teaching Dobro.
Membership plans are $90 for three months of unlimited access, $150 for six months and $240 for 12 months. Free sample lessons are available at AcademyofBluegrass.com.
About ArtistWorks, Inc.
Founded in 2008 by former AOL executive David Butler and former financial executive Patricia Butler, ArtistWorks, Inc. is the leader in a new generation of online learning platforms. Their revolutionary global learning community of world-renowned teaching artists and enthusiastic amateurs is dedicated to unleashing the music that lies within all of us. This "next generation" Video Exchange Feedback Platform enables virtuoso musicians to "teach the world" by presenting their musical legacy in the form of HD video lessons to subscribing members. Utilizing simple web cams, smartphones, tablets or video cameras, members are able to submit practice videos and get individualized video feedback and guidance from their teaching artists - creating a constantly evolving two-way, online learning experience.
ArtistWorks currently offers schools from such world-class artists as: Paul Gilbert (rock guitar lessons), Martin Taylor (fingerstyle guitar lessons), Jason Vieaux (classical guitar lessons), Andreas Oberg (jazz guitar lessons), Jeannie Deva (singing lessons), Nathan Cole (violin lessons), Jeffrey Khaner (flute lessons), William Caballero (French horn lessons), David Bilger (trumpet lessons), Ricardo Morales (clarinet lessons), Nathan East (electric bass lessons), John Patitucci (jazz bass lessons), Howard Levy (harmonica lessons), DJ Qbert (DJ lessons), Christie Peery (piano lessons), Billy Cobham (jazz and fusion drum lessons), Luis Conte (percussion lessons), as well as the ArtistWorks Academy of Bluegrass with Tony Trischka (banjo lessons), Missy Raines (double bass lessons), Bryan Sutton (flatpick guitar lessons), Andy Hall (Dobro lessons), Mike Marshall (mandolin lessons), and Darol Anger (fiddle lessons). For more information, visit http://www.ArtistWorks.com .
Contact: Ian Alexander
707-255-1840