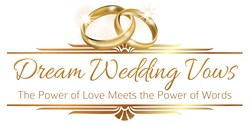 The most important part of the [wedding] day is often completely ignored until the very last minute.
Vancouver (PRWEB) August 15, 2013
New statistics on the cost of weddings indicate that the average nuptials in the United States cost $28,427.
But according to authors of a just-released book and proprietors of a newly launched service, the amount spent on the most important part of the wedding is usually zero.
"A great deal of thought and thousands of dollars are routinely devoted to the bridal gown, the flowers, the venue, the menu, the guest list and other tangible details of a wedding," says PJ Keating, principal of Dream Wedding Vows. "The most important part of the day is often completely ignored until the very last minute."
Words, Keating says, are the absolute heart of the wedding – both the ceremony and the reception.
While Dream Wedding Vows is a new enterprise, launched by Keating and co-author Julia Lincoln. Keating has been writing wedding vows, speeches, toasts and prayers for more than two decades.
"With vows and other words that genuinely reflect the uniqueness of the couple, a wedding gains vast emotional power," according to Keating. "And yet, how many grooms write their wedding speech the night before the big day? How many brides who scrupulously oversee every component of the wedding, leave the most important part – the words – to chance?"
"A dream wedding requires Dream Wedding Vows," says Keating.
The wedding industry in the United States generates an estimated $53.4 billion in annual economic activity. For years, the average cost of a wedding has fluctuated between $25,000 and $30,000, with the number varying wildly by location. In Manhattan, the average wedding costs more than $75,000.
"The average wedding dress costs $1,211. The average that most couples spend on the words for their wedding is zero," says Keating. "The words are the last thing people think about – when they should be the first. The words explain to guests and articulate for the couple the meaning behind the entire celebration. Everybody has gorgeous bouquets and great food. Words are what make a wedding distinctive."
"The wedding industry includes a huge diversity of retail and service options," says Keating. "Yet there are almost no businesses dedicated exclusively to furnishing couples with the most important component of a wedding – vows, toasts, speeches, prayers, readings and other spoken expressions as beautiful and unique as their love. Dream Wedding Vows fills that niche."
Keating and Lincoln have just published "Soul Sentiments: Heartfelt, Powerful, and Magnificently Crafted Wedding Vows from the Eccentric to the Extraordinary." The book is intended to help couples add depth, meaning and emotion to their wedding by crafting the words that truly capture the spirit of a couple's love.