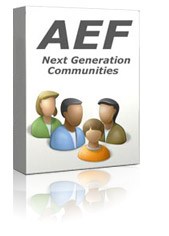 The vast majority of the classical forum software features are available with all ITX Design hosting packages
Miami, FL (PRWEB) August 15, 2013
Rising star ITX Design is quickly becoming a major contender in the hosting and dedicated server marketplace, and late Thursday afternoon, CEO Doug Davis made another surprise announcement that will include the addition of much anticipated 'Advanced Electron Forum' hosting for all existing & incoming hosting clients from coast to coast.
AEF is a terrific forum software, especially if the user is already knowledgeable in what a forum software is capable of achieving, and what facets can be custom configured. This is truly where Advanced Electron Forums really find their potential because of its power and versatility.
ITX Design reminds its many clients across the United States that most AEF features are simply not available with most other forum software programs, and that this particular platform should be utilized only by experienced programmers in the design and launch of their company websites that include Advanced Electron Forums.
However, AEF with ITX Design is very relatively simple to configure. The vast majority of the classical forum software features are available with all ITX Design hosting packages and proves beyond a shadow of a doubt that a professional forum template need not be a clone of phpBB to succeed in the long run.
Via the AEF website, customers can choose from dozens of themes such as:

Modern
Simple
Schematic
Professional
Classic
MKPortal
Custom
Standard AEF hosting packages with ITX Design include all of the features listed, including search engine optimization tools, the ability to IP ban, automated news listing, customizable themes, and more. AEF users can even supports multiple languages, time zones, and a threaded mode for select topics. With so many features available standard with AEF through ITX Design, the choice is simple.
ITX Design is an established web hosting and domain registration provider based out of Fredericksburg, Virginia providing dedicated servers, shared web hosting, and domain registration for small businesses including server hosting, WordPress hosting, reseller hosting and much more.
For more information or to speak with a qualified customer support representative, simply call 1-866-577-1442, or visit ITX Design today.