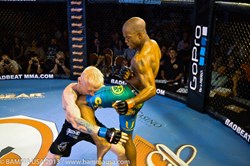 Reaching our 10th Badbeat fight event is a great benchmark for our company - Brett Roberts, BAMMA USA CEO
Los Angeles, CA (PRWEB) August 16, 2013
Celebrities and MMA Stars Turn Out to Support BAMMA USA's Badbeat 10
Broadcast live on television, Badbeat 10 featured the inaugural Featherweight Title bout between Chris Culley and Jesse Newell. The at-capacity event was attended by many notable celebrities including film star Danny Trejo ("Machete Kills"), General Hospital's Sean Kanan and wife Michele Kanan, actor/model Sam Sarpong ("Trigger") and UFC fighters Josh Barnett, Lorenz Larkin, Phil Davis, Josh Thomson and Cisco Rivera. Also in attendance was Bellator fighter Vladimir 'The Janitor' Matyushenko, actress Phoebe Price, Golden Globe and Grammy nominated songwriter Frank Stallone (brother to Sylvester Stallone) and world-famous Jiu Jitsu athlete Eddie Bravo.
Award Winners
Badbeat 10 featured nine exciting bouts of live MMA action, six of which ended with either a knockout, TKO, or submission. The 'Be First' Knockout of the Night was awarded to Rudy Morales who ended his match at 41 seconds of the third round. Victor Henry earned the 'Be First' Submission of the Night for his arm bar submission against Jeff Martin in the first round of his fight. Morales and Henry each received a $300 bonus, presented by the Be First Clothing Company.
Fight Recap
The action continued with a fight-winning ground and pound knockout from Dionisio Ramirez, a TKO from Ozzie Alvarez in the first round and another first round knockout from Jesse Juarez.
The main event at Badbeat 10 was a featherweight title match between "The Urban Legend" Chris Culley (18-10-0) and Jesse "Powder" Newell (7-3-0). Newell managed to take down the Urban Legend and keep pressure on him for the first three rounds of the five round bout, but Culley's precise counter striking allowed him to land enough blows to Newell that the fight was ended by corner stoppage after the fourth round. Culley is BAMMA USA's first Featherweight Champion and he remains undefeated (5-0) in the promotion.
"Badbeat 10 presented by Budweiser" was one of the most aggressive fight cards BAMMA USA has presented to date. Brett Roberts, CEO of BAMMA USA said, "Reaching our 10th Badbeat fight event is a great benchmark for our company. In the near future, fans can expect to see more star-studded events featuring exciting talent. As our motto states, we continue to keep moving forward."
Sponsors for Badbeat 10 included Budweiser, GoPro, Revgear, OC Fight Doc and Be First Clothing.
BAMMA USA will end out the year with two more shows. Pro Series 3, presented by BAMMA USA will be on Saturday, September 7, 2013 at the Braemar Country Club in Tarzana, CA. BAMMA USA returns to the Commerce Casino on October 25, 2013 with Badbeat 11. Both shows are all-professional fighter MMA events.
For more information on this event and BAMMA USA, please visit: http://www.BammaUSA.com or call 714.912.8822.
About BAMMA USA
BAMMA USA is a mixed martial arts promotional organization specializing in creating live entertainment, featuring professional combatants, under its Badbeat MMA banner. It is southern California's leading mixed martial arts organization, providing the area with consistent events and opportunities to professional athletes.
Currently stationed out of southern California, BAMMA USA promotes the area's top local talent from mixed martial arts gyms such as CSW, Knuckleheadz Boxing & MMA, Elite MMA, Kings MMA, PKG, Joker's MMA/Lightning MMA, The Bodyshop, Reign Training Center, Total MMA Studios, Ace Jiu-Jitsu, Cobra Kai, Gracie Morumbi, Cesar Gracie Jiu-Jitsu Academy, The Arena, Subfighter MMA, as well as many others.
Past and current fighters who have worked with BAMMA USA founder Brett Roberts include: Mike 'Joker' Guymon, Vladimir 'The Janitor' Matyushenko, Joseph 'Leonidas' Henle, Georgi Karakhanyan, Gabe 'Godzilla' Ruediger, Jason Lambert, Chad 'The Savage' George, Albert Rios, 'The Real Deal' Chris Beal, Jared 'The Jackhammer' Papazian, and more.
While the promotion prides itself on the motto: "Keep Moving Forward," the ultimate passion for BAMMA USA is to create an environment in which fighters are truly valued.
Web site: http://www.BadbeatMMA.com
Facebook: http://www.facebook.com/bammanation
Twitter: @BadbeatMMA and @BAMMAUSA