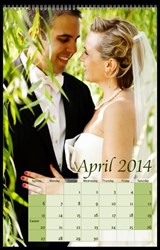 Palo Alto, CA (PRWEB) August 21, 2013
Market research indicates that one of the leading factors that drive businesses is word of mouth marketing and recommendations made by friends and family. A study conducted by the wedding report, showed that over 61% of couples have found their wedding photographer through recommendations made specifically by friends and family. So, how can a wedding photographer always be on the minds of his previous clients, so that they would recommend their work to loved ones?
One of the best was a photographer can be recommended is by their photographs, but how can you make your photography visible year round to various audiences? Says Bryan Passanisi, DigiLabs Marketing Manager. One unique and effective solution is marketing your photography skills through calendars. Calendars allow the photographers to be in plain sight of new and potential clientele. Having a calendar hanging in a home or office can stir up conversation about the piece, which could lead to an endorsement of the photographer based on their performance and other factors
A good way to have previous clients become a recruiting tool is to provide previous customers with a complimentary "Thank-You" calendar of some their best and most memorable images from their wedding. This "Thank You" calendar would most likely be hung in the couple's kitchen or office where their families and peers, typically the same age group, would also get the opportunity to view it.
DigiLabs offers 18 x 12 top bounded calendars; perfect for portrait images as they are long, large and eye-catching. DigiLabsPro software enables to create highly customized calendars and place logo and any other studio details.
To help customers further promote their businesses by showcasing their images, DigiLabsPro offers to its professional photographer customers an ongoing special deal on these calendars.
For more information on this service read : Photographers : Attract New Clients Year Round Without A Large Budget
About DigiLabs Pro
Since 2001 DigiLabs Pro has been an innovator in product and technologies designed for professional photographers. With its free workflow software professional photographers can:
Upload richly customized ecommerce enabled web galleries with studios' look & feel (DigiLabs is invisible to photographers' customers)
Create & order photographic lab services including albums, prints, proof prints and photographic proof books as well as other pro products like Gallery wraps.
Create and order custom, press print products including Coffee Table Photo Books, Cards, Promotional cards, Double-Sided Proof Magazines and Calendars.