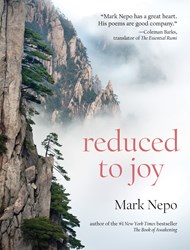 Mark Nepo is a poet. He's an author and a philosopher and has been through two different cancers. So when he writes, he writes purely from the heart.

—Oprah Winfrey
(PRWEB) August 16, 2013
Oprah Winfrey begins every morning by reading Mark Nepo's poetry and is so enamored with his authentic and moving writing that she interviewed him on finding one's core spiritual truth. Mark Nepo's latest book Reduced to Joy, which was just released on August 14th, is already climbing the best-seller charts and inspiring thousands. Reduced to Joy is all about distilling the experiences of life down to simple, pure emotion, and gets to the heart of the human experience.
"Part of the blessing and challenge of being human is that we must discover our own true nature," says Nepo.
What people are saying about Mark Nepo and Reduced to Joy:
"Mark Nepo is a poet. He's an author and a philosopher and has been through two different cancers. So when he writes, he writes purely from the heart."
—Oprah Winfrey
"In Reduced to Joy, Mark Nepo has written a love letter that speaks directly to the heart of the reader."
—Susyn Reeve, author of The Inspired Life
Mark Nepo is emerging as one of the truly significant writers and thinkers of today. Nepo has a singular way of distilling great truths down to their essence. In his own words, "I've learned that if we can stay true to our experience and to each other and face the spirit that experience and love carry, we will eventually be reduced to joy. Like cliffs worn to their beauty by the pounding of the sea, if we can hold each other up, all that will be left will be wonder and joy." Moreover, during his cancer journey, Nepo relied on the power of expression and the writing process to keep him tethered to life. In Reduced to Joy, Mark Nepo explores the places where pain and joy are stitched to resilience, uncovering them with deep wisdom, poetic passages and personal revelations. Nepo reveals the secret and sacred places within, forgotten in the noise and chatter of busy distracted 21st Century lives. Reduced to Joy is a lesson in stillness, in standing in the mystery and, above all, in the work of love.
Beloved as a poet, teacher, and storyteller, Mark Nepo, the New York Times bestselling author of The Book of Awakening, has been called "one of the finest spiritual guides of our time," "a consummate storyteller," and "an eloquent spiritual teacher." His many books have been translated into more than twenty languages. Mark has appeared with Oprah Winfrey on her Super Soul Sunday program on OWN TV and has been interviewed by Oprah as part of her SIRIUS XM Radio show, Soul Series. A highly popular workshop leader, Nepo travels internationally. He lives and writes in southwest Michigan.