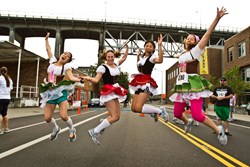 Enjoy a refreshing beer after the race, included in your registration!
Seattle, WA (PRWEB) August 16, 2013
The Fremont Oktoberfest 5K is the ultimate beer run, with racers crossing the finish line at the Fremont Oktoberfest Village Beer Garden and toasting their victory with a refreshing beer included in registration (for racers 21 years of age or older).
Runners may take the standard 5K route and run solo, or in true Fremont fashion, they can follow a path less traveled and join the unique Beer Belly Division or Team Division.
Men weighing over 220 pounds and women weighing over 175 pounds are eligible to compete in the Beer Belly Division and receive the unfair advantage of a head start, giving them the chance to be first to the finish line (and beer).
"We honor the most elite Oktoberfest athletes," explains Creative Director Phil Megenhardt, "those who have spent years indulging in Northwest microbrews, and who are sporting the much sought after beer belly!"
Runners can also compete with friends in the Team Division for multiple award categories: biggest team, fastest team (based on the four fastest runners), and best dressed team.
"Hopefully you're friends with Usain Bolt and Lolo Jones!" jokes Megenhardt. "You'll want to gather lots of your quickest friends and get them to dress up in their ridiculous banana costumes or traditional German dirndl to win all the awards."
Runners start at the Solstice Plaza (near N. 34th Street and Fremont Ave N.), run along the Burke Gilman Trail and Ship Canal, and end at the Fremont Oktoberfest Village Beer Garden.
Pre-registration is $25 and includes a seasonal beer for racers 21 years of age or older, and a Fremont Oktoberfest 5K t-shirt (guaranteed with registration before September 19).
Racers can learn more and register online at FremontOktoberfest.com/run.
The Fremont Oktoberfest 5K is part of the 17th annual Fremont Oktoberfest, September 20-22, 2013, featuring over 100 craft and microbrews, a full main stage lineup, and even a kids' area with fun for all ages. More information can be found at FremontOktoberfest.com.
###
Suggested Hashtag: #FOKT5K
Suggested Tweet: Race in the ultimate beer run, ending at @FOktoberfest with a tasty beer on 9/22. Register now!
View this release and photos online at fremontoktoberfest.com/press.html.