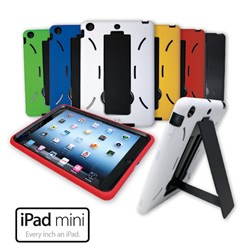 iGear's Slim Tough Case offers excellent protection. At 75% off on Amazon.com, it offers the best value of all name-brand iPad case.
Chicago, IL (PRWEB) August 16, 2013
Leading iPad case maker iGearUnlimited.com is clearing its inventory. Normally priced at $79.99, the iGear Slim Tough Case G1 for iPad Mini is on sales at Amazon.com for only $19.99, that's a savings of 75%. The STC G1 offers some of the best features on the market, combining rugged protection, a sleek profile, and customization flexibility in one economical solution.
In a recent YouTube video, the company's Slim Tough Case was put through a 20-foot drop test from a second floor window to a driveway. The case successfully protected the iPhone without a scratch, while the phone was recording video the whole time. See the drop test video here. The same construction is used in the iPad case.
In a recent survey conducted by iGear Unlimited, the company asked users to list the most wanted features of an iPad case for schools, here are the answers:
1. A rugged case that can protect the iPad from student's daily use and abuse
2. Not too bulky – need to fit in the popular Bretford charging cart and kids' backpack
3. Built-in kick-stand that works in both vertical and horizontal orientations
4. Low cost – get the maximum amount of protection and features for the lease amount of money
An overwhelming majority voted iGear's Slim Tough Case G1 as their favorite because it's the only iPad case on the market that satisfies all these features.
The Slim Tough Case G1 offers multi-layer protection using a combination of (1) an outer soft rubber shell, (2) an inner polycarbonate hard case, and (3) a built-in stand offers a convenient way to stand the iPad in both orientations. This case is supremely shock absorbent and protects the iPad all around – front, back, sides, and corners. It's designed to give the user easy access to all iPad functions, and a thin profile that fits in all charging carts including Bretford, Anthro, Datamation, and others.
"iGear's Slim Tough Case G1 offers excellent protection." says Jimmy Sun, president of iGearUnlimited.com. "At 75% off on Amazon.com, it offers the best value of all name-brand iPad case."
The Slim Tough Case G1 for iPad Mini is available from Amazon.com. It's available in 6 bright colors with free 2-day shipping via Amazon Prime.
About iGearUnlimited.com
iGearUnlimited.com is powered by Sunrise Hitek Group, LLC., an Inc. 5000 company established in 1988 and employs the most advanced equipment and technology, including G7-certified HP Indigo and UV flatbed presses, CNC die-cutting, laser die-cutting, to create best-in-class products. A privately-owned enterprise, the company is based in Chicago and sells products worldwide.