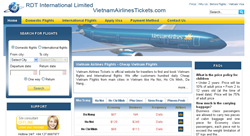 Sapa - A peaceful escape route in Vietnam
Hanoi, Vietnam (PRWEB) August 17, 2013
VietnamAirlinesTickets.com, a leading booking agent of Vietnam Airlines is offering significant discounts on flights, visas, tours and hotels to Vietnam this autumn.
For a welcome break from the noise and bright lights of modern cities the tourists can't do better than head for the clean air and mountain vistas of Sapa, a beautiful and romantic resort, 380 kilometers northwest of Hanoi, Vietnam's capital. As one of the most favorite tourism destinations of the country, Sapa is really a precious and miracle gift from Mother Nature.
Set in the shadows of Vietnam's highest peak, Fansipan (1,600m or 5,300 feet above sea level), Sapa is endowed with cool and moderate climate year round, averaging at around 15°C-18°C (59°F-64.4°F). On any given day, tourists can experience all four seasons of the year.
Autumn is the best time of the year in the mountain town of Sapa. From September to mid-December, the weather is perfect for sight-seeing, photo-taking and trekking. The area is spectacular with colorful flowers when amomum, anise, and goldthread enter their season. Sapa also greets autumn with a glamorous view of golden crops on the terraced fields at the foot of the magnificent Mount Fansipan. Especially, the scenery of detached wooden villas perched on a hill top or hillside in the foggy mornings makes Sapa more attractive.
Tourists will be strongly impressed with natural sites in Sapa, such as Ham Rong Mountain, Silver Waterfall, Rattan Bridge, and Ta Phin Cave. Fansipan Mountain, the highest mountain in Vietnam is an interesting challenge for climbers.
Sapa is such a beautiful town thanks to ethnic groups with colorful dress, exquisite textiles and exotic jewelry heading into the town's market to trade their produce. Tourists can take photos or buy souvenirs.
The Love Market is another unique beauty of Sapa. It used to take place in the market every Saturday morning when Dao and Hmong couples meet, date or seek sweethearts through pan-pipe (Khen) and flute.
You want to experience the cultural authenticity and natural tranquility, Sapa is the right place.
How to get there?
Foreign tourists can book flights of Vietnam Airlines at VietnamAirlinesTickets.com to Noi Bai International Airport, Hanoi then take package tours to Sapa. Visitors can choose to go to Sapa by train or car, but train is more advisable for the long and rough road.
The new Victoria Express leaves Hanoi railway station in the evening and arrives in Lao Cai railway station in early morning, so visitors eager to experience Vietnam's remote northwest can get there in complete comfort.
For more information for travel to Vietnam, please visit http://www.VietnamAirlinesTickets.com.
About VietnamAirlinesTickets.com
VietnamAirlinesTickets.com is a leading booking agent for traveling domestically and internationally to and from Vietnam. VietnamAirlinesTickets.com offers hundreds of daily flights to cities like Ha Noi, Ho Chi Minh, and Da Nang. VietnamAirlinesTickets.com has international flights out of Hanoi and Ho Chi Minh City to other countries around the world such as Laos, Cambodia, Thailand, Malaysia, Singapore, Indonesia, Europe and America.
VietnamAirlinesTickets.com prides itself on keeping its customers happy by offering them the lowest prices on tickets and their customer friendly attitude is open 24 hours a day, 7 days a week.
Contact:
email: booking(at)VietnamAirlinesTickets(dot)com
call: +84.127.668.7977