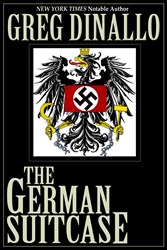 Los Angeles, CA (PRWEB) August 16, 2013
Premier Digital Publishing is pleased to announce an author event at Barnes & Noble on Monday, August 19th with New York Times Notable author, Greg Dinallo. Mr. Dinallo will be reading and signing copies of this latest thriller, The German Suitcase. In The German Suitcase, Mr. Dinallo has crafted a novel of suspense and intrigue that is part-WWII thriller and part-modern day mystery.
"Partly derived from personal professional experience, partly inspired by the unyielding will to survive exhibited by victims of Nazi oppression and the ambiguous moral choices many were forced to make, the book's subject matter and characters are very close to my heart," said Mr. Dinallo.
Greg Dinallo's previous novels, Rockets' Red Glare, Touched By Fire, Purpose of Evasion, Final Answers, and Red Ink have earned him accolades as a "suspense pro" from The Chicago Tribune; The New York Times heralded his "sharp insight into character," proclaiming, "Mr. Dinallo makes us believe".
For additional information on the event, please visit:
http://store-locator.barnesandnoble.com/event/80911 .
About The German Suitcase:
A vintage suitcase is pulled from the trash by a young New York advertising executive brainstorming a campaign on her way to work. The account is Steinbach Luggage, the German answer to Louis Vuitton and Hermes. There's only one problem with the vintage bag—like Steinbach's CEO, it's a Holocaust survivor, as evidenced by the name and other personal data painted on it. It is hallowed memorabilia, and no one dares open it until they can determine if the is owner still alive. The holocaust survivor turns out to be an 89 year-old member of New York's Jewish aristocracy, a prominent philanthropist and surgeon. When he gives his consent, the documents found inside the suitcase pique the interest of a New York Times reporter whose investigation begins to unravel a devastating secret that has been locked away since the day Dachau was liberated.
The German Suitcase is a unique WWII thriller focusing on the Nazi doctors who were conscripted by the SS and given the task of carrying out Hitler's Final Solution. It is a fascinating tale of survival of the human spirit against overwhelming odds and wrenching moral ambiguity.
About The Author:
Greg Dinallo began his wide-ranging career in the professional design world in Manhattan where his photography and museum exhibit design projects gradually evolved into film making endeavors. When one of his film shorts won an award at the Chicago Film Festival in 1973, Dinallo was seized with the urge to move to Los Angeles where he launched a successful second career as a writer for television and film. By 1983, his success in Hollywood enabled him to embark on his third career, as a novelist, which he pursued concurrently with television writing. He lives in Greenwich Village, NY with his wife, Gloria.
About Premier Digital Publishing:
Premier Digital Publishing is a leading independent digital publisher and innovator in eBooks, enhanced eBooks and interactive content. Led by a team of digital media pioneers, the company ranks among the top suppliers of quality print and eBook entertainment to the industry's most prominent tablet reader distributors and top-tier retailers.
Website: http://www.premierdigitalpublishing.com
Twitter: http://twitter.com/pdigitalpub
Facebook: https://www.facebook.com/Premier.Digital.Publishing