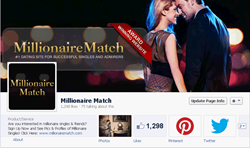 Los Angles, CA (PRWEB) August 17, 2013
MillionaireMatch.com, the dating website devoted exclusively to those in the highest tax brackets, is launching its first Facebook page to get the word out about the company to single millionaires all over the world. As the most popular and widely used social media site of today, Facebook provides MillionaireMatch with excellent opportunities to market their company to interested parties who may not have heard of the dating site until now.
The MillionaireMatch Facebook page - http://www.facebook.com/matchmillionaire explains in detail what MillionaireMatch is all about. It connects people to testimonials from individuals who have found true love through MillionaireMatch and directs people to read the dating site's blog for more information. MillionaireMatch has been in business since 2001 and has the distinction of having received the "Best of the Web" award given by the Wall Street Journal. This dating site has a stellar reputation for helping people find love and now that there is a Facebook page to promote the site, even more people will find out about the phenomenon that is MillionaireMatch. Members of this dating site work as professional athletes, CEOs of major companies, Hollywood celebrities and prestigious doctors and lawyers.
With such a wide range of members, MillionaireMatch.com provides the wealthy with excellent opportunities to meet people who have a similar lifestyle. The chances of a successful connection being made are much better on MillionaireMatch than they would be on other less sophisticated dating websites.