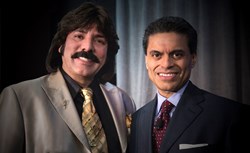 A 'World Centric' show is a natural extension in the advancement of global awareness and would also help to provide increased understanding of how world issues affect the planet as a whole.
(PRWEB) August 16, 2013
The media landscape today is far different from that of years gone past. News programming was once slow paced and viewed as a public service. The news anchors, all males, read the news in a very straightforward manner. The personal opinions of the news media could not be discerned because at that time it was considered that audiences were to assimilate the information to form their own opinions. The world seemed to be a more enigmatic place then and audiences were generally well informed about their own national issues. TV was a new venue, World War II had ended and the US and Europe were involved with post war recovery.
The world has become, figuratively speaking, a smaller planet today. The continued expansion of news, now with worldwide coverage (Fox News, CNN, BBC, Al Jazeera, CNBC, etc.), has opened up new vistas and opened up remote places on a global scale. It is cumbersome today for most people to keep up with world affairs, even with their own national issues. Enter the new era newsperson, whose knowledge and understanding are needed for the audience's ability to quickly glean a broader perspective of what is going on nationally and internationally.
World audiences generally embrace pundits such as Fareed Zakaria. Mr. Zakaria is highly educated, well published and his understanding of world issues is considered to be extremely competent. The perceived reliability of his statements is an important component of his credibility. Mr. Zakaria reports on issues as they occur, meaning to say that in this case, like others in his field; he is timely with his reports. He appears to digest the information presented, form an opinion and then share that with his audience. When new information about a topic emerges it becomes necessary to incorporate that new knowledge to reassess the situation at hand. After reassessment, a new opinion is formed. Some may have characterized the modification of his responses to issues in the past as being a 'flip flop', but it may have been wiser to consider those past issues as updated reflections. The ability to renew ones opinion in the light of new information is usually considered a rational act. The inability to rethink an issue after receiving new knowledge about it is generally thought to be inflexible and a bit stubborn; neither attribute is desirable of a journalist or a newsperson that the public depends on for informative and educated insights. Commentators such as Mr. Zakaria bring global awareness about the pulse of America and how its citizens are reacting to both national and global issues. That is a good thing. Mr. Zakaria is also bringing awareness to US audiences about how global issues affect Americans; his presentations could be characterized as American centric viewpoints.
On another note, Shawn Rae has read 'The Post-American World', authored by Fareed Zakaria. His initial assessment is that it is a thought provoking explanation that offers possible world scenarios from Fareed's multi-cultural point of view. Zakaria's studied insights examine myriads of possibilities that can affect America's standing in the global sphere. He further expounds upon how things may play out between nations in 'The Post-American World' and how the role of the United States can continue to grow and prosper, as other nations also rise in influence.
Today, understanding the news may be analogous to the use of a mirror. As a mirror also reflects back to the viewer, not only the viewer but the surroundings in which the viewer resides. Consequently, a mirror needs to be held up in front of each nation so that its place in the world is more clearly perceived by itself and others; providing a better understanding of how each nation's actions affect other nations and its people globally. This enhanced view can continue to increase worldwide understanding and assure clarity about how solutions may be realized on a global scale. With knowledge about critical issues citizens globally will better understand how their national decisions help, hinder or harm on a larger scale. Therefore, there seems to be ample room for the induction of even more media personalities in this new paradigm.
Currently, Fareed Zakaria provides an essential 'American Centric' perspective on world issues through GPS (Global Public Square) and through his written works. Shawn Rae values the necessity of Fareed's format and also finds the undertaking of a 'World Centric' show as being a natural extension in the advancement of global awareness. Additionally, the 'World Centric' format would also help to provide increased understanding of how world issues affect the planet as a whole such as climate change, HIV Aids, energy, water issues, etc.
For more information: Shawn Rae Video Biography 2013: http://youtu.be/jBt9I3g362Q or http://www.ShawnRae.com