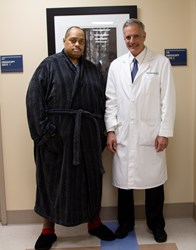 Orange, CA (PRWEB) August 16, 2013
Warren suffered from a condition called Scrotal Lymphedema and developed a massive scrotum. In 2008, the Las Vegas resident suffered a minor scrotal trauma, and then developed significant swelling. His scrotum continued to grow month by month until his swollen testicle sac extended below his knees and completely engulfed his penis. For the next several years, Warren was unable to find a doctor in Nevada who could treat his condition, and he was advised that surgery by local doctors inexperienced in this surgery would be associated with a very high risk of loss of his penis, testicles, and perhaps his life.
Unable to work, Warren's medical coverage through Nevada Medicaid refused to pay for surgeons out of state to perform surgery. In desperation, Mr. Warren turned to the media, and his story was featured on the Howard Stern show among others. At that time, his scrotum was estimated to weigh over 100 lbs.
Dr. Joel Gelman, a Reconstructive Urologist who is a leading expert specializing in male urethral, penile, and scrotal reconstructive surgery, was approached by both Mr. Warren and the media and asked to help. However, there was no funding to pay the doctor fees. Therefore, Dr. Gelman and his co-surgeons at UC Irvine offered to perform the surgery for free.
"We have treated this condition successfully in other patients without injury to the penis or testicles. I saw this as an opportunity to help Mr. Warren. In addition, I hoped the media attention surrounding his case would create awareness that this condition and other conditions that cause men to suffer such as urethral stricture disease and penile curvature can effectively be treated at a Referral Center such as ours," says Dr. Gelman. "Men with this problem, who are usually obese, are often told to lose weight, but that is difficult when a patient is fairly immobile, and weight loss will not cause shrinkage of the scrotum."
Dr. Gelman commented that some of the recent media coverage has been less than fair, with suggestions that Mr. Warren was left with a one inch penis as a complication of the surgery. In response, Dr. Gelman denied Warren's surgery was complicated by a loss of a portion of his penis, and provided additional clarification. "Mr. Warren's buried penis, prior to surgery was normal in size, but completely engulfed and buried inside a mass that was the size of a beach ball," says Dr. Gelman. "His penis, which is the same size as it was before surgery, is now visible, but a portion is buried in thickened skin surrounding the penis that will be revised in a subsequent surgery. If you equate the amount of visible penis with actual penis size, then you could also conclude Mr. Warren did not have any penis before surgery, and I gave him a new penis as a bonus. However, that sensationalized version of reality would also be misleading" Dr. Gelman says.
Wesley Warren remains delighted with his new life after the successful removal of his massive scrotum and the care he received at the University of California, Irvine Medical Center in Orange, Calif. In a recent ABC news report, Mr. Warren said "I call Dr. Gelman my lifesaver". His story is the subject of a documentary that will be broadcast on the TLC Discovery channel on Aug. 19, 2013.