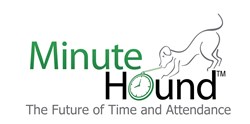 Automation allows an organization to spend less man hours manually calculating time records for payroll purposes.
New York, NY (PRWEB) August 29, 2013
Federal workers are among some of the highest paid employees across the nation. In fact, when factoring in healthcare and other benefits, they earn nearly double the average American. While a healthy economy can bear some excess, recent talks of budget cuts and government shut downs indicate a clear need to reduce expenses.
MinuteHound's biometric fingerprint time clock utilizes patented technology that effortlessly tracks a magnitude of employees across multiple locations. The system has been in use primarily for large business that benefit from the flexibility of remotely tracking time and attendance records automatically. Currently, there are over 150,000 daily users globally.
In order to conceptualize the actual savings, the MinuteHound website offers a web based calculator that details projected cost benefits before purchase. The user is able to input actual payroll expenses and receive a customized result. Losses are itemized using statistical information and conservative values for estimating percentages of waste.
As a specific example of potential savings, look at the United States Department of Agriculture's Office of Communications. In 2009, it employed 77 workers and paid a total annual compensation rate of nine million dollars (Budget of the U.S. Government, Fiscal Year 2014, Appendix (Washington: Government Printing Office, 2013)). When you enter these numbers into the calculator, the government could have saved approximately $900,000 by using the MinuteHound time clock system.
The biggest area of loss occurs through unintentional time theft. Employee breaks, late lunches, tardiness, and leaving early add up to an average of 4.5 hours per week for each employee. While it is important that staff are compensated fairly, it must be balanced out by the need of an organization to only pay for the actual time worked. Other areas of increased payroll cost include buddy punching, human error, and payroll processing expenses.
The time clock relies solely on the unique fingerprint data of each individual, so it is impossible to fool the system. Once a print is entered, the software breaks it down into 128 bit encrypted data and sends fragments of it to multiple servers located worldwide. With up to five different programmable security levels, employees can be assigned separate access levels. Time clock system reviews also point out how these different levels of access are beneficial to business.
MinuteHound's patented technology has recently become available to small businesses as well. The transition opens the door for organizations with any number of employees to access all of the great money saving features. In addition to automating time tracking, sick leave and holiday pay, an administrator is able to eliminate time theft and human error.
This level of security guarantees that an employee's identity remains private. Automation allows an organization to spend less man hours manually calculating time records for payroll purposes. Being completely paperless and cloud based means there is no need for printing or storage requirements. A single computer is able to manage the entire system while still being used for other purposes.
The biometric device plugs into a computer using a simple USB cord. Advanced reading technology ensure reliable scanning performance. Visit MinuteHound's Time Clock Calculator to find out how much money your business could be saving.
MinuteHound Contact Information
Website: http://www.MinuteHound.com
Email: info(at)MinuteHound(dot)com
Phone: (800) 351-7237