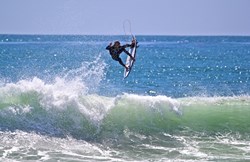 "I am pumped to be a part of the SUPERbrand team, said Fisher." The program is really strong and the product is amazing. The boards are insanely good and I am stoked on the new apparel!" Fisher Heverly
Carlsbad, CA (PRWEB) August 16, 2013
SUPERbrand is excited to announce surfer Fisher Heverly to the SUPERbrand team, representing both the surfboard and apparel sides of the brand. Heverly joins SUPERbrand's team of progressive surfers, including Dion Agius, Clay Marzo, Ry Craike, Gabriel Villaran, Carlos Munoz, and many others who already ride the boards.
From the Outer Banks, Emerald Isle, NC, Heverly is one of the top East Coast talents. A former National Scholastic Surfing Association (NSSA) East Coast Champion, and Eastern Surfing Association (ESA) East Coast Champion, Heverly is no stranger to competition, but is also a really photogenic freesurfer that thrives in heavy, hollow barrels and is a solid technical aerialist that is helping to shape the sports progression.
"We are excited to have Fisher join our team," said Paul Brewer, SUPERbrand Marketing Director. "Not only is he young and innovative, but he has a great attitude and will bring that positive energy with him to our team. He's also among the first to represent not only our boards, but also our burgeoning apparel collection, so it's very exciting."
"I am pumped to be a part of the SUPERbrand team," said Fisher. The program is really strong and the product is amazing. The boards are insanely good and I am stoked on the new apparel!"
Fisher's manager Brian Coe of BC Management added, "Fisher is excited to be surfing for such a great brand and is looking forward to many years of representing SUPERbrand. They have an amazing team and are really making a move on the clothing side of the industry as well. It's a great fit for him!"
SUPERbrand has posted a welcome video at SUPERbranded.com.
Keep checking back to see more video clips and photos from Heverly's upcoming travel adventures. This year he will spend some time in Central America, California, and will be working on some projects for SUPERbrand, including a rumored follow up video to the Brand's first production, "Sorry, We're Open."
About SUPERbrand, LLC
SUPERbrand, founded in 2008 with team riders Dion Agius, Clay Marzo, and Ry Craike, is all about progression. By joining a team of young, innovative Surfboard designers—the SUPERbrand Shapers' Collective—with a skate-influenced aesthetic and full-board graphics, SUPERbrand set new standards of excellence in the surfboard industry. In June 2010 SUPERbrand launched its first Men's Apparel Collection, an assortment that followed the youthful, progressive, high-quality aesthetic of the Brand. With the bones in place, distribution carefully grew to core markets and fine boutiques in the US, Australia, and select other regions. 2012 saw the entrance of SUPERbrand Women's Collection. Like the rest of SUPERbrand, the Collection refuses to be categorized and fills a void in the fashion/surf/skate/whatever worlds. More at SUPERbranded.com.