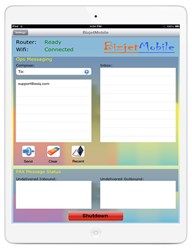 Most believed that the existing Wi-Fi service charges were just to high.
New York New York (PRWEB) August 16, 2013
BizjetMobile is an Apple App installed on an iPad Mini, designed to mitigate the high cost of inflight Wi-Fi by providing passengers and crew with the unique BizjetMobile messaging services whilst utilizing less than 2% of the available Wi-Fi network.
Ron Chapman CEO of BizjetMobile said, "This product is the result of extensive research, flight testing and the industry looking for a cost-effective solution to a major problem. After we launched the low cost Iridium Bluetooth version of BizjetMobile at NBAA, we were inundated with more 100 operators visiting our booth. I think we had such a good response to our product as most believed that the existing Wi-Fi service charges were just too high. Many flew internationally where the USA Domestic Wi-Fi network was of no use and the global Wi-Fi satellite solutions were too expensive to install and operate. The responses that really sparked our attention were from the charter operators. There biggest issue was control over passengers and pilots' Wi-Fi usage. We were told of flights where passengers incurred $8000 charges and instances of pilots leaving their iPad online and running up $2000 bills. It got to a stage where one operator said they decided to turn Wi-Fi off. We knew we had a solution, as we had already proven it could work via iridium, so it was only a matter of time before we would transfer our technology to broadband," said Ron.
How does it work?
All you need to install on the aircraft is an iPad mini and download a $20 BizjetMobile App from the iTunes® App store.
The App latches onto any existing Wi-Fi broadband network such as GOGO, Swift broadband or KU Band and restricts Internet access to email and text messaging only. What makes this App unique is that once activated, the Mini sets up a hybrid Bluetooth/Wi-Fi network in the aircraft so that anyone with an iPad® or iPhone® can log on. Pilot's logon via Bluetooth and passengers still connect via Wi-Fi. Once online, users can communicate with anyone on the ground, no matter which device they have, at a fraction of the costs, as the mini manages the link, not the user.
One iPad Mini can manage up to 16 passenger and crew online simultaneously. Full Internet access is still available, but for operational and general passenger messaging it is not really practical or cost-effective. The cost saving from operations alone justifies the system, and now pilots can stay online the entire flight without any concerns.
The operator pays a flat monthly fee of $499 USA only or $799 globally for unlimited use.
The user App is called ijetcell and costs $20. A free light App is also available for those who want to test the system first.
The system is currently flying on a Boeing 737-800 and operates globally. The aircraft has a full Inmarsat broadband Wi-Fi platform onboard.
About BizjetMobile
BizjetMobile is a unique Bluetooth concept that delivers a range of low-cost connectivity services. Originally designed to connect via the iridium satellite constellation and now interface with the global broadband networks. BizjetMobile is currently flying on corporate jets all over the world.
For more information in the USA, go to http://www.execjetMobile.com, or in Europe, go to http://www.bizjetmobileeurope.com in Asia Pacific go to http://www.asiq.com/.
Apple, iTunes, and iPad are registered trademarks of Apple Inc.