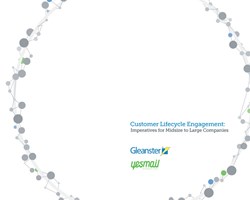 Companies need to start thinking in terms of the customer lifecycle and relying more on the data and insight that informs and develops the applicable lifecycle strategy.
San Francisco, CA (PRWEB) August 16, 2013
A new study released by Gleanster Research, in conjunction with Yesmail Interactive, finds that 80 percent of consumer-facing companies don't understand their customers beyond basic demographics and purchase history.
The report, "Customer Lifecycle Engagement: Imperatives for Midsize-to-Large Companies," reveals that marketers think they know their customers well, but they lack the deep data insights that would enable them to send personalized, relevant campaigns. Gleanster surveyed 100 senior-level marketers with online and offline sales models to gauge the state of customer engagement among companies with $10 million to more than $1 billion in revenue.
"This is a huge wake-up call to B2C marketers," said Ian Michiels, Principal & Managing Director at Gleanster. "The future of brand marketing is about building relationships through relevant and timely communications via whatever channels your customers prefer. Companies need to start thinking in terms of the customer lifecycle and relying more on the data and insight that informs and develops the applicable lifecycle strategy."
According to the study, marketers openly acknowledged they could do more to target and personalize communications and offers to customers, but they struggled to gain access to existing customer data. "That's a frustrating thought," said Michiels "Marketers are constrained by a lack of alignment between the data, the strategy, the creative, and the measurement. They make do, but the reality is that seven out of ten organizations could easily boost customer profitability, capture more revenue, and increase customer satisfaction if they had access to a more robust view of customer behavior, purchase history, socio-demographic data, household information, and propensity to purchase data."
Key Findings from the Report
According to the survey, 90% of marketers rely on basic profile and purchase history data to target and segment offers to customers. Yet 88 percent of respondents still consider their customer engagement strategies – including knowing the optimal message, channel and time to send to each customer – to be effective. This suggests that marketers are limited by what they perceive to be successful legacy tactics.
Among the report's key findings:

Optimizing the customer engagement strategy is a top 2 strategic imperative for B2C marketers and the number one perceived source of revenue growth over the next five years.
Marketers rely on multiple channels to send communications (email, website, social media, direct mail, mobile, etc.) but they aren't using data to coordinate and orchestrate communications across multiple channels. Less than half of marketers use data from sources that provide better targeting, including web browsing history and online behavior (41 percent), social data (38 percent), and third-party behavioral and attitudinal data (36 percent).
Limitations with existing tools (42%) and fragmented marketing systems (34%) were cited as the top 2 challenges with sending personalized customer communications.
While 40 percent of marketers use customer transactions such as purchases to trigger automated campaigns, only 21 percent use life-stage triggers such as birthdays or having a baby.
Eighty-six percent of the marketers surveyed said they could do a better job with segmentation if they had access to better customer data.
Future Imperatives for Customer Engagement
So what do we do about these trends? The report outlines four major imperatives B2C marketers need to embrace (along with strategies and recommendations) to future-proof their customer strategy and maintain competitive parity.
1. Move from stagnant data to real-time data access
2. Move from campaign-centric execution to highly personalized customer-centric dialogs
3. Move away from non-integrated multi-channel execution to orchestrated multi-channel execution
4. Connect analytics, strategy, and creative to inform customer lifecycle engagement prioritizes.
To download the full report, please visit the Gleanster website.
About Gleanster
Gleanster is a new breed of market research and advisory services firm. Its benchmark research and Deep Dive analyst reports highlight the experiences of top performing organizations; why they invest in technology, how they overcome challenges, and how they maximize the value of their investments. Gleanster also aggregates thought leadership in the form of white papers and research reports from third-party sources, including solution providers – who, for their part, can create and maintain their own vendor and solution showcases on Gleanster to help further educate the marketplace. For more information, please visit http://www.gleanster.com/.
About Yesmail Interactive
We power intelligent customer interactions. We give you the insights to recognize and understand your customer to deliver contextually relevant digital communications – while respecting their preferences and privacy. We help marketers evolve their customer relationships through intelligent interactions via technology, insights and services in a near real-time multichannel environment. We help you compete in the age of the customer. For more information, visit http://www.yesmail.com/.