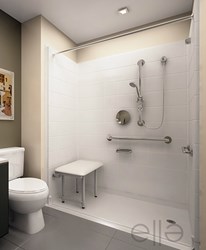 We will now provide a greater selection of quality walk in tub and bathroom accessories.
Denver, CO (PRWEB) August 16, 2013
A national walk in tub company, Aging Safely announces new accessory options for step in bathtubs and handicapped showers. Customers can now select additional features to go with their specialty bathing product which may potentially enhance their bathing experience.
The new products include additional options on several sizes of safety grab bars, chromatherapy lighting, aromatherapy, auto drain and a steam system that's great for residential projects. It isn't hard to imagine, converting a boring plain old bathroom into something incredibly inviting such as a hydrotherapy spa with relaxing lights. Clients can also choose to add a steam spa to their home bathroom.
Several of the products supplied by Aging Safely can typically be installed into residential and commercial locations. In addition, many of the specialty handicapped bathing appliances provided are ADA compliant. The company offers numerous sizes and configurations of low threshold bathing products that are often times ideal for the elderly and people with disabilities. Having full use of extremities can make taking a bath or shower a somewhat thoughtless process. However, people that have limited mobility due to a bad back, arthritis, bad knees and a variety of other moderate to severe medical ailments may have a difficult time bathing independently or without fear of falling.
Low step in bathing appliances and safety grab bars might potentially ease some of the difficulty getting in and out of a bathtub. According to Aging Safely, they have low step in products that can be installed flush with the floor where there's little to no edge or lip when entering the shower. The walk in tubs step in height can vary from 3" up to 7". Step in height may also be limited to any installation restrictions that may exist. In some instances the product can be installed just below floor level basically eliminating the step in.
Finding quality products can sometimes be a challenge, however Aging Safely has a perfect record with the BBB and is a company committed to providing excellent customer service and industry leading products that are designed to potentially help people's lives.
It can be seen time and again. Two products standing next to one another. Seemingly they look the same, however upon closer evaluation; one of them turns out to be inferior. Sometimes it's completely incapable of accomplishing the task in which it was created for. That is why it's important for customers to purchase a specialty bathing product that's right for their unique needs, but also has excellent warranties to help ensure a protected investment. Aging Safely is a company committed to selling the best brands at the lowest prices nationally and may provide customers an additional resource from the big box stores.
Customers who would like more information are invited to visit http://www.agingsafelybaths.com or contact a customer care consultant who can provide detailed information and answer any questions regarding the products. Customers can also potentially save money on freight charges, as Aging Safely has no charges for shipping to deliveries within the continental U.S. on tubs and showers.
Contact Information:
Zach Wennstedt
Toll Free 1-888-779-BATH(2284)
info(at)Agingsafelybaths(dot)com