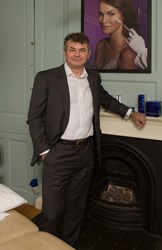 "I am quite often asked for advice about how to choose a medical practitioner and have put my thoughts in this report to enable patients across the UK to make sensible decisions.
Northampton, Northamptonshire (PRWEB UK) 19 August 2013
Dr John Tanqueray is a leading expert on cosmetic treatments in the UK with impeccable credentials. He has over 14 years of practicing aesthetic medicine of which 10 have been spent running and working within his own Mulberry House Clinic. As well as being a highly regarded aesthetic doctor, he also speaks at conferences and trains other medical professionals in the latest techniques.
Now he has written a comprehensive Report on Cosmetic Treatments entitled "How to Choose the Right Clinic and What You Need to Know"; in order to help and guide prospective patients about the often confusing world of cosmetic treatments. This 13-page document is exclusively available on the Company's website and is free of charge to download.
The report answers questions such as how to decide where to go for treatment, how to choose the best clinic and choose the right practitioner for non-surgical treatments such as dermal fillers, wrinkle-relaxing injections or chemical peels. The report includes a Top 7 Questions to Ask to help the general public make an informed choice about their cosmetic treatments practitioner with advice on positive and negative points to look out for.
The Report on Cosmetic Treatments goes on to explain the art behind natural-looking cosmetic treatment results, as most patients prefer to avoid the frozen look and simply enjoy the appearance of fresher and younger looking skin. The document also goes on to help patients make the right choice about any prospective treatment by explaining the fundamental difference between how some of the most popular treatments actually work.
Aesthetic Physician Dr John Tanqueray MB BCh MRCGP DCH DRCOG DipOccMed BCAM explains:
"Since my involvement in this area began in 1999, I've seen both good and bad sides of the cosmetic industry, the medical profession and government authorities; and have learnt to question and doubt everything I hear from sales representatives or read in the newspapers and magazines and even some of my colleagues."
"I am quite often asked for advice about how to choose a medical practitioner and have put my thoughts in this report to enable patients across the UK to make sensible decisions about whether and where they should have treatment and what treatments are most likely to give the results that they want."
Unlike many competitors, Mulberry House Clinic & Laser Centre do not charge for a consultation with their doctor, so patients interested in learning more about cosmetic treatments can have a private meeting with Dr John Tanqueray, which will give them an honest appraisal of the most appropriate treatment programme based on their skin condition and concerns as well as their medical history. This is without obligation.
Northamptonshire-based Mulberry House Clinic & Laser Centre offers a wide range of treatments and the Company has invested heavily over the years to ensure that their patients have access to the latest skincare and laser technology, providing a wide choice of treatments for optimum results.
Mulberry House Clinic offers a wide choice of the latest cosmetic, medical and laser skin treatments with highly professional service. As well as popular anti-ageing injections, peels, micro-needling and dermal fillers, the clinic has invested in the latest skin treatment technology including LED skin therapy, radiofrequency, PRP (platelet rich plasma) and plasma energy skin regeneration treatment.
Mulberry House Clinic & Laser Centre is based in Hardingstone, Northamptonshire; and remains independent and doctor-managed with its patients' best interests placed firmly at the heart of the business.