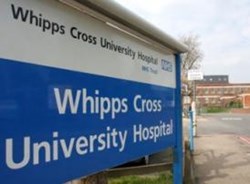 We saw in some rooms that offensive waste was overflowing from the bin
Bolton, UK (PRWEB UK) 23 August 2013
In an inspection held by The Care Quality Commission, official regulators have made claims about the conditions of the hospital and medical staff, saying their behaviour was "unacceptable" and "uncaring" (2). In reference to the hospital, it has been reported by The Telegraph that the conditions of the wards were far below what should be expected, with sluice pipes leaking into labour wards, and dust being found on resuscitation equipment for new born babies (2).
Commenting on the recent findings, Suzanne Yates said:
 
"I find it very concerning that the hospital was allowed to get to this point without any major intervention by hospital bosses. 
Having waste leaking onto maternity wards and dust on resuscitation equipment is something I have never heard of previous to now, I struggle believe that it was allowed to happen."
There was also major concern over the risk of hospital acquired infection with "offensive waste" overflowing from bins, trolleys being used that were still covered in patients' blood and nurses and doctors failing to wash their hands frequently- putting not only mothers and new born babies at risk, but also visitors to the hospital (2). In an article released by The Telegraph, the CQC claimed that some babies were even admitted to intensive care units, due to birth injuries caused by the poor care given by midwives (2).
Whipps Cross University Hospital was ordered to make "urgent improvements" after failing to sufficiently meet 10 out of 16 critical hospital standards of care and hygiene (2).
Quoting the report, inspectors said:
"On the labour ward, there were stainless steel bowls on stands in some delivery rooms. We saw a blood-stained bowl in a delivery room which was described as a room ready for use. We found another room, that a midwife had said was ready for use, had stains on the disposable curtains"
Inspectors claimed to have seen "dried stains on that sluice pipe and floor," during their unannounced visit in both May and June, along with rooms, trolleys, theatres and communal bays that were described as "filthy".(2)
The inspector continued to say:
"We saw that there was dust behind the furniture in the rooms, blood stains on the disposable curtains and bodily fluid stains on the wall near the beds. We saw in some rooms that offensive waste was overflowing from the bin."
The Telegraph also makes claims of elderly patients facing poor care, as some of those suffering with bed sores were left unsupported when eating and incidents of glasses of water being left too far away for them to reach (2).
Continuing to comment on the findings, Suzanne Yates from Asons Medical Negligence Solicitors said:
"I was truly shocked by the failings of the hospital after reading the report released by the CQC. Women have been forced to give birth in wards filled with sewage, the lives of babies have been put at risk and elderly patients have been left deprived.
More care and compassion certainly needs to be implemented into the structure of this hospital because the levels of substandard care here are unacceptable."
Any patients that have been treated poorly whilst in hospital and have suffered as a result, may be entitled to make a clinical negligence claim for compensation. Asons solicitors have a team of medical negligence experts that specialise in claiming compensation for any unnecessary suffering that has been caused by poor patient care within the NHS. To find out more information, or to make a claim, phone 01204 521 133 or visit http://www.asons.co.uk.
(1) Care Quality Commission, CQC warns Barts Health NHS Trust that it has failed to protect the safety and welfare of patients at Whipps Cross University Hospital, 14th August 2013
cqc.org.uk/media/cqc-warns-barts-health-nhs-trust-it-has-failed-protect-safety-and-welfare-patients-whipps-cros
(2) The Telegraph, NHS trust warned over filthy maternity wards and uncaring staff, 14th August 2013
telegraph.co.uk/health/healthnews/10240273/NHS-trust-warned-over-filthy-maternity-wards-and-uncaring-staff.html

About Asons Solicitors:
Asons Solicitors is a Bolton-based law practice that specialises in personal injury and industrial disease claims. Founded by brothers Imran Akram and Kamran Akram, Asons Solicitors has developed to become a young and dynamic law firm that delivers practical solutions to clients in times of difficulty. Their continued focus on their staff has seen them awarded with the Investors in People "Gold Award"; which is reflected in the professional and personable approach they take in working with clients. They strive to grow and to develop, and their supportiveness and attention to detail ensures that their clients use them time and again.
For further information contact:
Email: info(at)asons(dot)co(dot)uk
Website: http://www.asons.co.uk