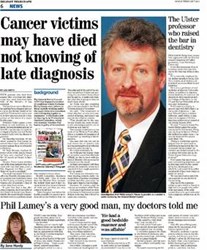 Speaking up if you've suffered from dental negligence could prevent the same situation from reoccurring, helping others to avoid injury in future.
Bolton, UK (PRWEB UK) 20 August 2013
Following the identification of "Serious deficiencies" in the quality of care at the Royal Dental Hospital in Belfast, the Department of Health has released a full report examining their oral medicine service (1). According to the BBC, a consultant practicing at the hospital, Professor Philip Lamey, has been accused of 46 counts of dental negligence.
It is alleged, that Professor Lamey failed to carry out numerous biopsies, causing fifteen patients to suffer a delay to their cancer diagnosis. Consequently, four of those fifteen patients later died from the disease (1).
Instead of conducting the necessary investigations, it is alleged, that Professor Lamey prescribed mouthwash, iron tablets, and even sugar-free chewing gum (2).
As reported by the BBC, in one case, Professor Lamey noted a 'Suspicious Legion' had been found. During subsequent appointments, despite the growth increasing in size, Professor Lamey repeatedly failed to take any further action. The patient in question later had a neck dissection, which culminated in surgeons removing 43 lymph nodes, two of which tested positive for cancer (2).
Commenting on the patients circumstances, expert witness Dr Stephen Layton –
"This is a man in his early fifties who smokes 40 a day and drinks nine units of alcohol a day. With respect, you couldn't invent a better candidate for oral cancer.
The professor should have organised a biopsy. The ulcer was on the floor of the patient's mouth, which is a 'danger area' for smokers. In my view no clinician would be able to distinguish between a malignant or pre-malignant lesion without doing a biopsy."
While 42 action points addressing the department of health's recommendations have now been implemented, the misconduct panel hearing Professor Lamey's case has been adjourned until October (1).
Discussing her concerns, Asons Executive, Laura Williams –
"We often associate misdiagnosis claims with medical negligence, overlooking that instances of dental negligence can be just as serious. Where Professor Lamey's patients are concerned, a delay in diagnosing and treating their cancer could have meant that their symptoms became too progressive to give their treatment a chance of being effective."
"Cancer misdiagnosis can be incredibly destructive. Delaying a vital treatment can take away a patients fighting chance, diminishing their hopes of recovery. We need to be vigilant, holding dentists to the same high standards we hold doctors and nurses. Speaking up if you've suffered from dental negligence could prevent the same situation from reoccurring, helping others to avoid injury in future.."
In the event that you consider yourself to have been subject to cancer misdiagnosis or dental negligence, you must seek legal advice as quickly as possible. Asons Solicitors deal with dental negligence claims and medical negligence claims on a regular basis, you can contact them on: 0844 850 1062 or you can fill out their claim form at http://www.asons.co.uk
-Sources-
(1) BBC News, 'Royal Dental Hospital: Report Points to 'deficiencies' in Care.' (22/07/2013) bbc.co.uk/news/uk-northern-ireland-23406718
(2) BBC News, 'Dentist Philip Lamey prescribed mouthwash to patient with cancer' (04/03/2013) bbc.co.uk/news/uk-northern-ireland-21657395

About Asons Solicitors:
Asons Solicitors is a Bolton-based law practice that specialises in personal injury and industrial disease claims. Founded by brothers Imran Akram and Kamran Akram, Asons Solicitors has developed to become a young and dynamic law firm that delivers practical solutions to clients in times of difficulty. Their continued focus on their staff has seen them awarded with the Investors in People "Gold Award"; which is reflected in the professional and personable approach they take in working with clients. They strive to grow and to develop, and their supportiveness and attention to detail ensures that their clients use them time and again.
For further information contact:
Email: info@asons.co.uk
Website: http://www.asons.co.uk