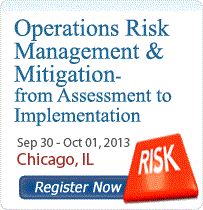 Palo Alto, CA, USA (PRWEB) August 20, 2013
ComplianceOnline, the leading governance, risk and compliance advisory network with over 500 experts in various regulatory subjects, today announced a seminar on Operations Risk Management & Mitigation - from Assessment to Implementation. The two day long seminar led by renowned operational risk management specialist Richard Barr will be held on September 30 and October 1, 2013 in Chicago, IL and on October 3 and 4 in San Francisco, CA.
This course will provide attendees with a sound foundation in the theory and practice of operational risk management.
For more information or to register for the seminar, please click here.
Seminar instructor Richard Barr has 23 years of experience, five years of which were spent with Wells Fargo Bank. Another five years were spent honing his global banking skills, when Richard was intimately involved with International Trade Finance, Real Time Gross Settlement and Cross Border Banking. The past 14 years have been in the private and high-tech sectors providing high-level consulting services, business analysis, project management and training to a wide range of banking clientele across the globe.
During the two day interactive seminar, Mr. Barr will focus on operations risk management and mitigation. The course will provide the attendees an understanding of operational risk techniques for assessing, managing and mitigating operational risk. Attendees will learn how to implement an operational risk management structures in practice in a banking organization. This course provides a complete structured package for learning in all main aspects of the subject of operational risk.
The seminar is designed for financial officers, risk officers, internal auditors, and operational risk managers. This course is not restricted to management staff alone but to all staff who is required to be "Operational Risk" aware. Staff with roles and responsibilities in operational risk in risk management departments, businesses and central departments will also benefit from attending this seminar.
Date: Monday, September 30 (8.30 AM- 5.30 PM CDT) and Tuesday, October 1, 2013, (8.30 AM- 5.00 PM CDT)
Thursday, October 3 (8.30 AM- 5.30 PM PDT) and Friday, October 4 2013, (8.30 AM- 5.00 PM PDT)
Location 1: Chicago, IL
Location 2: San Francisco, CA
Registration Cost: $1,999.00 per registration
Early bird discounts: For discounts on early registrations, please click here.
Register by phone: Please call our customer service specialists at +1-650-620-3937 or email to customercare(at)complianceonline(dot)com.
For more information on ComplianceOnline or to browse through our trainings, please visit our website.
About ComplianceOnline
ComplianceOnline is a leading provider of regulatory compliance trainings for companies and professionals in regulated industries. ComplianceOnline has successfully trained over 35,000 professionals from 9,000 companies to comply with the requirements of regulatory agencies. ComplianceOnline is headquartered in Palo Alto, California and can be reached at
http://www.complianceonline.com
For more information please contact:
A Reuben Bernard
Manager of Program Marketing
ComplianceOnline
2600 E Bayshore Rd
Palo Alto CA USA 94303
650-620-3937 phone
650-963-2530 fax
reuben(at)complianceonline(dot)com
http://www.complianceonline.com