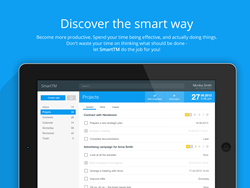 Torun, Poland (PRWEB) August 18, 2013
From today, all SmartTM® iPad app users can update to version 1.1. The Main changes in the new version are related to app stability improvement and functional enhancement. The iPad 1.2 version is currently available at the AppStore with a special offer price of only $2.99.
The SmartTM® application is being continuously improved in order to give users the maximum satisfaction from the tool offered by Onemln.com. The iPad app version 1.2 features improvements surrounding the stability of processes and data exchange performance, so even with several thousand tasks, the functionality of the tool will be enhanced.
App stability is one of the most important issues for Onemln.com, which is why the SmartTM® developers team continuously put a huge emphasis on stability and usability in order to provide the highest quality software for task management. In addition, taking into account the results of the tests and user feedback, the development team has made changes with regards to the graphical interface to improve the user experience with the SmartTM® and deliver not only an efficient but also a well-designed product.
The latest versions of applications are always available in the Apple App Store.
Please note that the application is for a limited period available at a discounted price - $2.99.
For more information about SmartTM®, please visit http://www.smarttm.co.