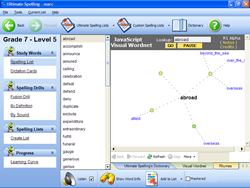 The team stressed that learning spelling through these benchmark practices will allow students to develop a competitive advantage.
New York City, NY (PRWEB) August 20, 2013
In their latest briefing today, the eReflect team promoted the best spelling practices collection suggested by ACSI (Association of Christian Schools International) on their official site. The team members highlighted that traditional approaches to memorizing spelling rules can often prove to be unfruitful over the long term. By contrast, contemporary approaches such as those suggested by ACSI can prove to be vital in enhancing the speed of learning spelling, especially in younger children. These "best practices" in education will be covered during an upcoming conference in Bogota, Colombia this November, according to the website, but eReflect pointed out today that the resources on the list can be used by anyone at any time.
The team stressed that learning spelling through these benchmark practices will allow students to develop a competitive advantage. These practices can form an important part of professional development of individuals through school and beyond. The expert developers at eReflect pointed out that many of these benchmark practices were also incorporated in the 2013 Ultimate Spelling software, a successful product of eReflect.
Although parents can also use these best practices to support children at home, the recommended spelling techniques are generally designed for implementation within classrooms. This point was specifically highlighted during the eReflect briefing today, in which one team member remarked that the old-fashioned Friday spelling tests might actually prevent the students from enjoying the learning process. Alternative spelling competitions or other fun filled spelling games can prove to be an ideal method for teaching spelling.
The team focused on various features offered by Ultimate Spelling and how these features are in line with the best practices outlined in the resources presented by ACSI. Ultimate Spelling uses well-researched educational theory, but appeals to younger children through its interactive exercises and 10 fun games, rather than taking the traditional "rote learning" approach towards spelling. These interactive games are specifically designed to enhance the learning speed of students while also ensuring that the learning process is entertaining and engaging.
The team highlighted that amongst various different approaches that can be adopted for improving children's spelling, many of the ACSI resources emphasize the need to implement strategies based on cognitive theory. Ultimate Spelling is designed on cognitive and psychology principles related to education and therefore can prove to be extremely beneficial in accelerating the learning process. The software encourages deep processing and spaced repetition while also providing motivation and rewards for achievement. eReflect encourages both parents and teachers to take advantage of this and other resource lists to provide the best possible support to children learning spelling.
For more information about how Ultimate Spelling software can improve spelling performance for you and your family, please visit the official website at http://www.ultimatespelling.com.
About Ultimate Spelling™
Ultimate Spelling provides a modern and easy to use spelling software that has been designed with one goal in mind – making children want to learn.
It is a fast and easy way to master even the most complicated spelling, without the need to write long lists or complete boring tests.
In fact, Ultimate Spelling provides more than just spelling help. It is a complete educational resource that boosts all level of a child's literacy.
Containing a personal computer tutor, Ultimate Spelling is the most realistic step-by-step guide to flawless spelling ability.