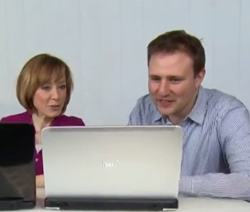 "The website was meant to be a little tongue in cheek for the television show but with a serious message behind it," said David Gelb, JBi.
(PRWEB UK) 19 August 2013
JBi, a well-established London based digital agency, has been helping the BBC show "Your Money Their Tricks" in their quest to prove that online travel agents are mis-selling packaged holidays.
The BBC initially approached JBi to advise on their experience within the online travel industry and how it operates, as well as their thoughts on Google ad words and how it can benefit a company with no previous trading history. Subsequently the BBC approached David Gelb, Managing Director at JBi, to see if he would be interested in appearing on the show with journalist and current affairs presenter Sian Williams to express his views.
On the 4th of March 2013 at an offsite location in Ware, Hertfordshire, David Gelb was on set with Sian Williams and a travel expert to film an episode of the BBC One programme. He was asked to demonstrate just how easy it was to set up a travel agent website and to highlight what consumers should look for when booking a holiday online. The BBC producers commissioned JBi and gave them just 24 hours' notice to set up a simple working travel agency website with a brief including the specific requirement for a highly interactive site. The intention was, of course, to show how quick and easy it is to set up a travel website. The site included a mock up travel search engine, holiday images, social media icons, contact details and of course the all-important small print hidden in the footer.
"The website was meant to be a little tongue in cheek for the television show but with a serious message behind it," said David Gelb, JBi.
With the increasing use of the internet for shopping and entertainment, more and more people are turning on their computer to see whether they can beat the 'high street' travel agent with their costs to book their holiday getaways. You find a deal, an all inclusive bargain, and at the click of a button you have booked it and it's all paid for. It is only later when you discover that the online packaged holiday that you have purchased is not a package but a holiday that is made up of several different parts from several different vendors. The issue was that if one part cancels, the consumer thinks they will get a complete refund, whereas they will only be entitled to the compensation to the specific part that cancelled. This has led to consumers being left with a package holiday consisting of a hotel, a hired car, a trip to a local attraction but no flight!
"It is easy for companies to offer travel packages online – all they need is a website and some kind of budget for Google ad words which will help them get to the top of the Google search engine in no time. All of a sudden from nowhere, a new website can be open for business and start selling these holidays," commented David.
The show was aired on BBC one July 17th 2013 and can be viewed at http://www.bbc.co.uk/programmes/b0378jfm
The British Broadcasting Corporation, BBC is a British public service broadcasting statutory corporation. Its main responsibility is to provide impartial public service broadcasting in the United Kingdom, the Channel Islands, and the Isle of Man. Founded in 1922, London. Founders: George Villiers, 6th Earl of Clarendon, John Reith and 1st Baron Reith.
BBC One Programme Your Money Their Tricks - BBC One Consumer series. The team expose the sales tricks. This release refers to the episode broadcast on the 17th of July 2013, see the link below:
http://www.bbc.co.uk/programmes/p01b85c4/features/problems-abroad
JBi is an established full service digital agency in London, specialising in web design, web and mobile app development, social media, SEO and online marketing. JBi combine strategy, creative ideas and innovative technology solutions to deliver measurable digital results for their clients. Their consultative approach has enabled the businesses to rapidly expand to become a leading provider of internet solutions for businesses of all shapes and sizes.
For press enquiries please contact:
Michael Rees, Producer, BBC
michael(dot)rees(at)bbc(dot)co(dot)uk
http://www.bbc.co.uk
David Gelb, Director, JBI
david(at)jbiwebdesign(dot)co(dot)uk
Tel: 020 7078 4328
http://www.jbiwebdesign.co.uk
Robyn Seider, Marketing Manager, JBI
robyn(at)jbiwebdesign(dot)co(dot)uk
Tel: 020 7078 4328
http://www.jbiwebdesign.co.uk