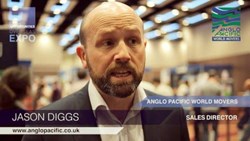 It's nice to be able to meet them face-to-face and build up your confidence about that move.
(PRWEB UK) 18 August 2013
International removals company Anglo Pacific took its TV cameras to the recent Opportunities Overseas Expo organised by Working In. Held in London on 6 and 7 July, Anglo Pacific captured on screen the value of meeting industry leaders in person before making any life-changing migration decisions.
Jason Diggs, Anglo Pacific's Sales Director, was at the Event, "As a Company we've been attending migration Expos for more than 20 years, up to a dozen shows per year, and it gives us a chance to explain face-to-face, in an informal environment, the removals process. People can ask where we ship, how we pack, about the customs process, anything they like, and arrange a free quotation at their home. They can also meet many migration experts in fields of recruitment, banking, visas and so on, gathering vital information before they embark on a new life. Granted, the vast majority of our business still comes through the internet, but these events offer a welcome personal touch."
Spencer Hawkes, General Manager of Working In UK, agrees, "I think one of the great things about coming to a Show like this is that, for lots of Brits, the idea of moving yourself and your possessions from one side of the world to another is quite scary. When you come along to an Expo you get to meet people, people that you're going to be working alongside, people that are going to offer you a job, people that are going to change your lives for better and forever. It's nice to be able to meet them face-to-face and build up your confidence about that move. They're also going to find experts such as Anglo Pacific that will give them advice on whether they need a 20ft or a 40ft container or whether they can do it by excess baggage. They'll be able to meet somebody that they can trust, somebody that's here in the UK and is going to help them make that move."
Despite England being in the throes of the most prolonged spell of summer heat it had seen in 16 years, the British and Irish Lions playing Australia and Bartoli and Lisicki battling out in the Wimbledon Ladies' Final, hundreds of people turned up to July's very busy Opportunities Overseas Expo. The next events attended by Anglo Pacific will be the Australian Immigration Seminar in London in September and both Coventry and London in October, followed by Down Under Live Expo in Glasgow in October and the Opportunities Overseas Expos in London and Manchester, also in October. For further information on upcoming expos see http://www.anglopacific.co.uk/migration_events.htm
To watch Anglo Pacific's Expo Documentary, click here: http://bit.ly/189OLYv
Contact Anglo Pacific on 020 8965 1234, email info(at)anglopacific(dot)co(dot)uk or visit http://www.anglopacific.co.uk.
Peace of Mind Through Experience - Anglo Pacific is a specialist mover to the Southern Hemisphere and handles around 20,000 consignments of personal and household effects annually. A known market leader for Australia, New Zealand, the USA, Canada and South Africa, Anglo Pacific has been established for 35 years and has an unrivalled reputation for friendly, professional and reliable container shipping and international relocation services. What's more, as a fully bonded member of the British Association of Removers, clients' belongings could not be in safer hands.
-ends-
For further press information or photography please contact Sarah Drane on sarah(at)purplecakefactory(dot)com or call 00 34 607 564 726