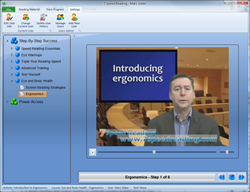 Speed reading is proving to be a "must have" skill in the 21st century just to keep up with the pace of innovation.
New York City, NY (PRWEB) August 18, 2013
7 Speed Reading™, developed by eReflect software company, is now available for MAC users. According to eReflect the software is capable of adapting to each user's speed reading progress, making learning fully customizable and adjusted to each user's needs.
The ever-increasing amount of information created and circulated on a daily basis in print and on line makes it impossible for people to be on top of all the things they wish to be informed about. Speed reading is proving to be a "must have" skill in the 21st century just to keep up with the pace of innovation.
eReflect says that learning how to speed read shouldn't have to be a difficult process. For that reason, 7 Speed Reading™ for MAC has been equipped with a technology that adapts to each user's progress and learning, making their training more enjoyable and relevant, and ultimately more efficient.
In the newly-released software, reading comprehension and speed are monitored by the 7 Speed Reading™ system, making it easier for the user to review their progress at any given time. The data extracted are based on the user's progress, and are then assessed by the software which recommends and adjusts reading exercises that are closer to the needs and level of that user. This level of adaptability of exercises is a unique characteristic of 7 Speed Reading™ and something that is capable of increasing result success by 163%, according to company representatives.
Keeping track of personal speed reading progress is an essential feature provided to 7 Speed Reading™ users on all platforms. eReflect seeks to provide a decidedly personalized learning experience for all users wishing to improve their reading speed with minimum effort. They accomplished this through tested and proven speed reading techniques, including training for fixation expansion, full-brain activation, memory, and comprehension.
The personalized training approach 7 Speed Reading™ allows learners to learn how to speed read in an engaging environment that nurtures the user's motivation to keep practicing until their speed reading goals are achieved. This adaptive technology is what makes it possible for learners to effortlessly and efficiently learn to speed read.
For more information about the benefits of using 7 Speed Reading, please visit the official website at http://www.7speedreading.com.
About 7 Speed Reading™
7 Speed Reading is the only modern speed reading software that uses the latest technology to produce superior results.
The software provides its users with a new way to master speed reading that guarantees three times the reading speed along with improved memory and comprehension.
The software is poised as the most comprehensive speed reading system anywhere. It contains seven learning strategies, fifteen software activities, video training, advanced tracking capabilities and many more exciting features.