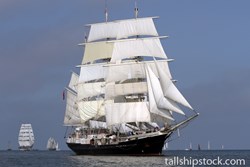 (PRWEB UK) 17 August 2013
Fresh from participating in the Tall Ships Races organised by Sail Training International, Tenacious arrived in Edinburgh on Wednesday 14th August.
The Tall Ships Races, organised by Sail Training International, are the world's largest spectator sport in the world, after the Olympics. The event attracts over four million viewers, and Tenacious was one of over 100 vessels competing against thousands of people of all backgrounds from over thirty nationalities.
With races between Arhus, Denmark to Helsinki, Finland and between Riga, Latvia to Szczecin, Poland, Tenacious came 6th and 12th respectively in the Class A league (the big tall ships). In both races she beat the other British class A ships – Stavros S Niarchos and Pelican of London. In between the two races there was also a cruise-in-company, where the sight of 100 tall ships sailing together was a sight not to miss.
Tenacious will be spending the next couple of months sailing to British ports; calling in at Southampton, Poole and Jersey in the Channel Islands, before setting sail to the Mediterranean for Christmas. Berths are still available for her Mediterranean stint, where she will be calling in to Spain, Italy, Monaco, the Balearic Islands and Malta. For voyage booking enquiries, please call 02380 426868.
Tenacious, which is operated by the Jubilee Sailing Trust and is based in Southampton, was purpose-designed to combine traditional square-rig with special features that make it possible for physically disabled people, including wheelchair users, to take a full and active role in crewing the ship. Among the bespoke features of the ship are hearing loops, wheelchair lifts between decks, integrated Braille instructions, a joy stick for people who want to steer the ship but cannot hold a wheel and an audio compass for those who want to steer but cannot see.
Chief Executive Alex Lochrane said; "We were thrilled to be once again taking part in the Tall Ships Races in the Baltic Sea, and to race in the company of other fantastic tall ships from around the globe. A massive well done to Captain Simon and the crew and particularly for beating Stavros and Pelican! And a huge welcome home to Tenacious – we're looking forward to having her around for the next couple of months."