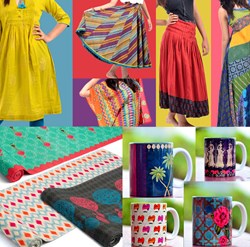 (PRWEB) August 18, 2013
India Circus, leading designer Krsna Mehta's contemporary-chic home decor, lifestyle, apparel, and personal accessories label, has unveiled a range of new products in a variety of categories. New elements, new colors, and new styles, the latest collection has it all! The collection includes products across several categories and will begin with the launch of mugs, table runners and apparels, which will be followed by cushions, iPad covers, iPhone covers, notebooks, votive, hurricanes and lots more in the next few weeks.
The Fall/Winter 2013 Collection, which heralds the beauty of the seasons, has a mood in sync with the feel of the seasons. Keeping in tune with the Fall and Winter seasons, the latest collection has products having deeper and warmer hues.
Distinct and vibrant animal designs and graphics come alive in the latest Fall/Winter 2013 Collection by India Circus. From the horses of the royal times to the majestic elephants, and from classic auto rickshaws to beautiful floral motifs, the new collection has it all.
The apparels in the Fall/Winter 2013 Collection personify a feeling of freedom, with comfort and class. Inspired by the Bohemian and gypsy styles, the apparels are made of soft cotton, which makes it a pleasure to wear these gorgeous skirts, Kurtis, pants and lots more at any time of the day.
Speaking about the latest collection, Krsna Mehta, Design Director, India Circus, says, "Our Fall/Winter 2013 Collection is truly fantastic! With this new collection, while on one hand we have maintained the old, unique style of India Circus, we have also gone a step further and been a lot bolder, in terms of designs and color tones."
India Circus, a private label, constantly seeks inspiration from the rich natural elements around us, and also from the varied nuances of day-to-day life. It is this design ideology that makes every product of India Circus a true pride and pleasure to own. To know more about the latest India Circus Fall/Winter 2013 Collection, visit http://indiacircus.com/new/.