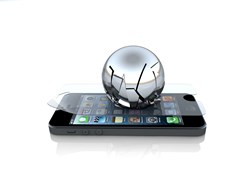 Toronto, Ontario (PRWEB) August 16, 2013
iSkin, a premium brand for mobile technology accessories, announces the availability of its new ProTouch TITAN Screen Shield for high-impact screen protection. Originally introduced as part of the company's fuze 360 and revo 360 iPhone 5 cases, the ProTouch Titan is available as a separately packaged product for the iPhone 5, iPod touch and Samsung GS4.
The Ultra-Clear and touch responsive ProTouch TITAN utilizes a patented multi-layering manufacturing technology process that results in a screen overlay that provides effective protection against hard impacts, scratches and damage caused by sharp contact. In addition, a specially formulated adhesive allows trapped air bubbles to dissipate shortly after application to provide a smooth, unobstructive finish with ultra-clear viewing qualities. This feature also helps to makes the installation process easier.
The ProTouch TITAN High-Impact package comes with 2 front screen films and is available for the iPhone 5, iPod 5th Generation and Samsung Galaxy S4 devices.
The product is available today on the iSkin website For 3 days only. Consumers can save $5, until Sunday Aug 18.
About iSkin Inc.
Celebrating over 10 years, iSkin Inc. has been one of the world's most trusted mobile accessory brands since its first advanced silicone protective solution for the iPod® in 2002. Since then, iSkin has had many firsts including the use of thermoplastic and fused matetrials to the Apple device accessory industry. Known for its cool, innovative designs and fashion-forward style, iSkin continues to be the leading mobile accessory brand. iSkin continues to focus on delivering the highest quality, innovative design and fashion-forward style in accessories for Apple®, BlackBerry® and now Samsung®.
The iSkin word mark and logo are registered trademarks of iSkin Inc., registered in Canada, the United States and other countries. All Rights Reserved 2006-2013. Apple®, iPad® and iPad® mini are trademarks of Apple Inc., registered in the U.S. and other countries. Other company and product names mentioned herein are registered trademarks of their respective companies.