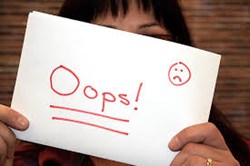 Even if a trader isn't wrong very often, the market is always right.
Bingham Farms, MI (PRWEB) August 16, 2013
In trading the market, and in life, there are risks and rewards. When a risk taken turns into a disappointment, it's best to admit the mistake in trading (and in life) and learn from it. "Being stubborn in holding a position will prevent someone from moving on. In fact, it can cause even more mistakes," says Mitchell. Acknowledging where things went wrong and making corrections allows people to grow their trading skills, and their earning potential."
This idea is Todd Mitchell's #2 rule in his "20 Survival Skills for Traders" listed below:
1. Know the difference between trading and investing.
2. Don't let losers run! Don't be stubborn in holding a position. Remember, while you may not be wrong often, The Market Is Always Right. The best traders are the first to admit (to themselves and the market) that they made a mistake.
3. Trade only price pattern set-ups.
4. Trade for skill, NOT the money.
5. Concentrate on what you are trading.
6. Focus on your executions.
7. Model yourself after successful and experienced traders.
8. Be teachable.
9. Remember that even the best of the best traders lose money.
10. Use only one contract at the beginning.
11. When in doubt, get out (or stay out)!!
12. Learn the difference between gambling and trading.
13. Never, ever add to losing trades.
14. Don't overtrade.
Many of the trading rules offer wisdom for life as well. For the full explanation of Mitchell's trading rules, please go to http://tradingconceptsinc.com/trading-articles/20-survival-skills-trader/.
ABOUT TODD MITCHELL:
Todd Mitchell has been involved with the markets since 1988. His training success has been tied to consistently developing and improving his trading approach based upon the use of bar charts. Todd Mitchell's entire approach to trading is to be honest and straightforward. Todd's love for the markets and his love for teaching echoes throughout all of his work. Todd is founder and CEO of Trading Concepts, Inc.
ABOUT TRADING CONCEPTS, INC.:
Founded in 1994, Trading Concepts quickly established a reputation as one of the industry's finest educational companies in the world. And as one of the oldest, most respected trading education companies in the industry, they are proud to have mentored over 10,000 traders in Forex, E-mini futures, Options and Stock Trading bringing them powerful trading strategies and money management techniques that have previously only been available to professional traders.