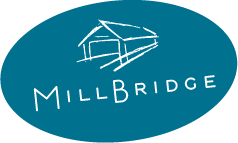 These events create memories that MillBridge families garner for the rest of their lives.
Waxhaw, NC (PRWEB) August 20, 2013
The event has grown and evolved over the years to mirror the community's dedication to life-long learning and to celebrating life's simple pleasures. "Light Up MillBridge has evolved into one of Waxhaw's premier holiday events. We are proud to welcome the greater Waxhaw community to activities at MillBridge and show off our community's southern hospitality, the spirit of our residents, and the lights and luminaries of the magical holiday season," said Annie Kilby –senior vice president marketing, Landeavor, LLC.
Light Up MillBridge is the event of the holiday season for the Waxhaw-area community when rows of luminaries light MillBridge's one-and-a-half mile main thoroughfare and lead visitors through the illuminated covered mill bridge to the 16-foot evergreen Christmas tree in the center of Community Park, awash with white holiday lights. Professional carolers join a catered dessert event in the expansive Community House, while Santa takes notes and wishes from happy visiting children at the Community Gazebo.
MillBridge's active community engages in residential events throughout the year to enjoy the pleasures of friendship, neighborhood and shared experiences. Throughout the remainder of 2013, the MillBridge activity calendar is filled with a variety of residential events programmed to foster residential camaraderie. "Whether it's movie night, competing for best costume at the Fall Festival or sharing a cup of hot chocolate with friends who visit from all over Charlotte during our Light Up MillBridge event, these events create memories that MillBridge families garner for the rest of their lives."
About MillBridge
Millbridge is a premier community offering homes for sale in Waxhaw NC, with a family-oriented focus that features the Charlotte-area's only functioning covered bridge. The inclusive, resident-focused community offers pedestrian-friendly sidewalks along tree-lined streets, parks, walking and biking trails, common squares and greenways to the 2,000 residents who will call MillBridge home. The adventure-filled community house spans 9,000 sq. ft. indoors, and more than 60 acres outdoors, offers an aquatic center with three pools, airnasium with full basketball court, fitness center, movie theater and special event facilities. For more information, visit: http://www.millbridge-nc.com .
About Landeavor
Landeavor, LLC is a national real estate investment and development company headquartered in Tampa, FL with offices in Atlanta, Houston, Charlotte and Raleigh. The company specializes in the development of master-planned residential and resort communities as principal developers or through joint ventures. Through Landeavor's distinct alliance with Walton Street Capital affiliates, Landeavor is uniquely positioned to invest in or develop a variety of planned communities from any stage of development.