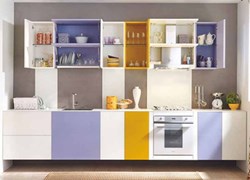 Knowing how to use color correctly makes the difference between gaudy and glamorous.
Toledo, OH (PRWEB) August 19, 2013
Making a bold statement in your kitchen is easy with the right finishing touches. Large appliances and lavish light fixtures are great, but don't always work for every kitchen. Instead, play with different colors in bold ways for that extra oomph your dull kitchen needs. And, since the kitchen is a high-energy place in a home, it can handle a bold color palette. With this in mind, venture away from the typical white "passé" and try out some new hues.
Knowing how to use color correctly makes the difference between gaudy and glamorous. Using bright colors draws the eye in and highlights everything in its proximity, making the space a focal point of the home. If a color change is in your kitchen's future, here are some tips from MR Direct on making the right choice:
When selecting a color for the kitchen, there are many aspects to consider. Color theory is important for choosing hues in the space, as different colors create distinctive moods. Bright, warm hues can express energy and excitement, whereas cool blues and greens establish a sense of calmness. The color should be chosen to match the mood of the room, as well as the overall design style of the home.
Even after all the careful planning and color picking, choosing WHAT to paint may present a challenge. In a large kitchen, painting a row of cabinets or a focal wall will add pizazz to the room. Using bold colors on substantial surfaces will surely add dramatic effect in all the best ways. On the contrary, splashes of saturated color usually work best for smaller kitchens, as it does not overwhelm the senses. Walking into a small kitchen that is painted bright yellow on every surface may not create the best impression for you and your guests.
After you have decided on the right color and appropriate surface to paint, it is time to tackle the project. Spending a weekend prepping and painting can take the look of your kitchen from antique to up-to-date in no time at all. Make sure to have all materials purchased and your plan developed before starting the project in order to avoid a big mess.
Once your kitchen is painted, step back and say "ahhh." Painting any area in the kitchen is a quick and easy way to update the space at very little cost to you. The best part? If you find that you aren't happy with the color, repainting is a breeze.
Happy Painting!