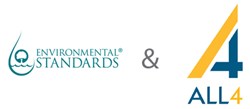 We have the common interest of ensuring our clients receive the "best-in-class" of our respective services. -- Rock Vitale, CEO of Environmental Standards
Valley Forge, PA (PRWEB) August 19, 2013
Environmental Standards, Inc. and All4 Inc. (ALL4) are pleased to announce a strategic alliance between the two consulting firms. After working side by side with each other on numerous high-profile environmental projects throughout the years, the two companies have joined forces to offer their focused professional services. Clients will benefit greatly as Environmental Standards and ALL4 work together to offer highly specialized solutions to address the scientific, technical, and regulatory challenges confronting our clients.
"We have the common interest of ensuring our clients receive the "best-in-class" of our respective services," said Rock Vitale, CEO of Environmental Standards.
"Our plans for increased sharing of technical insight and professional knowledge between ALL4's 36 air quality consultants and the 100-plus chemists, geoscientists, and information technologies professionals of Environmental Standards will strengthen the value-proposition we have for our clients," commented Kevin Hickey, Principal Consultant of ALL4.
Environmental Standards' core services are environmental chemistry quality assurance, consulting geosciences and site remediation, information technologies/environmental data management, emergency response quality assurance oversight, and health and safety support. ALL4 specializes in air quality compliance; air quality permitting; air quality dispersion modeling; continuous, ambient, and meteorological monitoring; environmental program management; multimedia regulatory analysis; and climate change.
About Environmental Standards, Inc.
Environmental Standards was founded in 1987 and is headquartered in Valley Forge, Pennsylvania. The company has regional offices in Charlottesville, Virginia; Knoxville, Tennessee; and Houston, Texas. The Inc. 5000 List of America's Fastest Growing Private Companies has listed Environmental Standards for 6 of the last 7 years. Environmental Standards employs over 100 full-time professionals.
For more information about Environmental Standards, contact Kevin Renninger, Vice President/Principal, at 610.935.5577 or at krenninger(at)envstd(dot)com or visit their website at http://www.envstd.com.
About All4 Inc.
ALL4 was founded in 2002 and is headquartered in Kimberton, Pennsylvania, with a regional office in Kennesaw, Georgia. Employing over 35 full-time professionals, ALL4 provides a wide range of air quality consulting services, for small and large industrial manufacturing clients, on an individual facility basis and at the corporate level. ALL4 has been recognized recently for its growth and work environment. Since 2009, ALL4 has been consistently named a Top 5 ZweigWhite "Best Environmental Firm to Work For". Since 2008, ALL4 has been named to the lnc. 5000 list of Fastest Growing Private Companies.
For more information about ALL4 contact Kevin Hickey, Principal and COO, at 610.933.5246 x111 or at khickey(at)all4inc(dot)com. Learn more about ALL4 at http://www.all4inc.com.