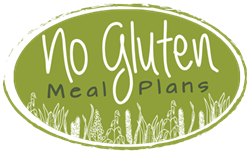 Whether you are just beginning your gluten-free journey, or you've been struggling for years to find the right combinations of foods, my No Gluten Meal Plans will take the worry out of preparing your meals.
Nashua, NH (PRWEB) August 20, 2013
"Clearly, there is an undeniable connection between what we eat, and how we feel," says Amy Medling, CHC, the founder of No Gluten Meal Plans.com, which sells "Done-for-You" Meal plans for those living a gluten-free lifestyle. "Living gluten-free doesn't have to be overwhelming or feel like a deprivation diet. In fact, a gluten-free way of living can be delicious, tasty and healthy." Ms. Medling is also the founder of PCOS Diva, an online resource for women looking to manage their Polycystic Ovarian Syndrome (PCOS) symptoms naturally has been very successful in helping women with PCOS overcome symptoms of PCOS (the leading cause of infertility in women), even some becoming pregnant. "I know how hard it is to be at the end of your day, ready for dinner and not knowing what to eat. With my done-for-you No Gluten Meal Plans, you'll discover dishes that will satisfy your hunger, reduce inflammation and other symptoms."
The 6-week Meal Plans are for those wishing to eat healthier, or have a sensitivity or intolerance to gluten, such as celiac disease. These symptoms can include inflammation and joint pain, bloating and gas, digestion problems, aid reflux, chronic fatigue, and even headaches. In addition, gluten may impact children autism, learning disabilities or neurological disabilities. Gluten affects nearly every system in the body.
No Gluten Meal Plans.com offers Seasonal Meal Plans that include fresh, organic foods, low dairy or dairy free options, and substitutes for gluten and uses foods that are plentiful in the season, making it easy to find fresh vegetables, greens and fruits.
For more information about the Gluten-Free Seasonal Meal Plan and to download visit: http://www.noglutenmealplans.com .