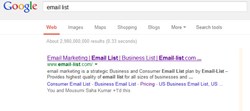 Exolevel has done an excellent job bringing a high level of targeted traffic to our site. We are very excited about the results and a long prosperous relationship.
Tampa, FL (PRWEB) August 19, 2013
"Exolevel SEO has done an excellent job bringing a high level of targeted traffic to our site. We are very excited about the results and long and prosperous relationship," says Joes Chives VP of Sales and marketing for Email-List.com.
Email-List.com, the Home of Unlimited Sales Leads and Email Lists, has just released the 2013 Updated Email List of 164 Million US Consumers.
Customers can now reach more than 164 million verified addresses, through the self-service tool at Email-List.com or with the assistance from a marketing expert, to create their ideal email list. Search criteria include categories such first last name, gender, date of birth, email address, ip, county, city, state, zip code, phone number, income per household and average house value and financial and buying habits and interest.
The US Consumer Email List is compiled from a network of over 100,000 websites. The email list opt-in email list and permission based. To validate and document the opt-in permission based email list, Email-List.com traces and provides the opt-in website source and time stamp for each record.
"EmailOutbound has created our consumer email list solution to give customers an extremely easy and effective way to send email to the right people, at the right businesses virtually anywhere in the U.S.," said Joe Chives, president, small & medium business, EmailOutbound. "Our customers can rest assured that the email addresses selected from our U.S. Consumer Email List is processed to verify deliver ability and that IP addresses are checked for legitimacy."
For over 10 years, businesses have relied on Email-List.com to help target and acquire new customers, grow their sales, clean and update their databases and make business credit decisions. Email-List.com compiles the most up-to-date marketing lists and sales leads containing powerful, in-depth demographic information. Email-List.com makes it easy to reach potential customers with complete email marketing services, which include everything from purchasing a targeted list to the design and delivery of the marketing program.
About Email-List.com
With more than 40,000 customers, Email-List.com provides email marketing and social media tools for small to mid-sized businesses and non-profits. EmailOutbounds's award-winning solutions allow for easy creation of email newsletters, surveys and other online marketing programs. Email-List.com founded in 2002 offers a suite of custom and managed services designed for mid-sized organizations, is available at http://www.Email-List.com/.
Contact:
Joe Chives
VP of Corporate Communications
877-403-6245
info(at)Email-List(dot)com
About ExoLevel.com SEO
About ExoLevel.com SEO is the creator of a URL Construction Kit that allows clients to manage and create multiple optimized web pages that enhance their search engine placement online. The URL Construction Kit is not only the very first of its kind but allows anyone that does online business to create highly unique SEO rich content pages by the thousands, blow past their competition, and dominate in search engine rankings in a matter of weeks.
Exo Level Inc has created an easy to use system that allows clients to take their list of multiple keywords along with any city, state and zip code/postal database and structure them to build out websites pages on the fly. The process is quite simple, as the company uses multiple parts and terms database that allows nested randomization of custom and powerful URL creation. This proprietary system has been proven to drive massive real visitor traffic and higher conversions -- without the high rates of Google's pay per click business model.
Learn more at Exolevel.com
Scott Healms
727-244-0696
VP of Corporate Communications