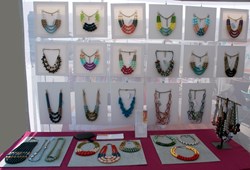 Wearing a bright color that complements your eye color or skin tone can bring a glow to your face and a sparkle to your eyes.
Boston, MA (PRWEB) August 16, 2013
From the year's hottest color, emerald, as well as vibrant turquoise, sunny yellow and hot pink for summer, to fall's rich earthy colors of lichen green, plum and teal blue, Jenne Rayburn's new collection of handcrafted Lucite jewelry offers fresh looks for the season. A mid-century vintage material returns with a contemporary interpretation.
Jenne Rayburn's Vintage Collection includes collar-style statement necklaces as well as necklaces with bobbles, dangles and pendants. Lucite bead bracelets and earrings complete the look for a coordinated ensemble. "With vintage Lucite jewelry, each bead radiates a lovely internal glow, unlike average plastic beads," said Rayburn, founder and designer of Jenne Rayburn Handcrafted Jewelry. "Individual beads also may be accented with various color flecks such as silver or gold glitter, or light to dark swirls of a single color, giving them depth and intensity." Lucite comes in a variety of colors, including shiny opaque, clear and jewel-like semi-transparent, yet always has a distinctive shine.
Lucite makes a wonderful fashion accessory for several reasons according to Rayburn. Foremost, Lucite is lightweight, making dramatic statement necklaces easy to wear. The many color options make Lucite a stand out design material. In keeping with the trend of color blocking, Rayburn's designs often showcase bold colors and color opposites put together for the widest contrast possible, or add color to a black and white combination. "Many women are afraid of bright colors, because they are worried that the color won't be flattering or will draw too much attention," notes Rayburn. "However, wearing a bright color that complements your eye color or skin tone can bring a glow to your face and a sparkle to your eyes resulting in a bold look that will make you look and feel terrific."
While Lucite is considered a material that grew out of the study of military problems by scientists during World War II, for centuries people have used naturally occurring plastic-like compounds to create fashion components for personal adornment. Some of these compounds were produced with resinous tree sap, ground animal horn or shellac made from insects. Seeking an alternative to glass for lighter, stronger and more transparent windshields, Lucite was developed by the Dupont Company in 1931 and made its first appearances in the jewelry world toward the end of World War II. Research and development during the war created more efficient factory processes that made Lucite extremely affordable. A form of acrylic resin, Lucite appeared in many colors and styles of jewelry during the 1940s and 1950s. Similar to Bakelite, another popular mid-century resin material, it has become collectible in recent years. Lucite is still used today in the production of some jewelry. Jenne Rayburn only uses vintage beads in pristine condition that have never been circulated.
Jenne Rayburn will be at the SoWa Market this Sunday, August 18th, from 10am - 4pm
SoWa Open Market is at 460 Harrison Ave., Boston, 800-403-8305
Sundays, 10 a.m.–4 p.m. sowaopenmarket.com
Visit Jenne Rayburn's collections http://www.jennerayburn.com
Visit Jenne Rayburn on Facebook http://www.facebook.com/Jenne.Rayburn
About: Jenne Rayburn is a Boston-based jewelry/textile artist who also studied interior design and architecture, and her work explores the convergence of architecture, design, technique and identity. Balancing the demands of a career and a growing family, Jenne is a mother, wife and daughter who designs for herself and all the women in her life who want to feel uniquely beautiful and powerful. It is her hope that the wearers of her pieces will find joy in a delightful artistic statement, and also something that enhances their individuality and confidence. Her work is suitable for wedding jewelry and is carried in local galleries and online. Please visit http://www.jennerayburn.com for Jenne Rayburn's online flagship store. For wholesale information, please visit jennerayburn.com/wholesale.com.
###