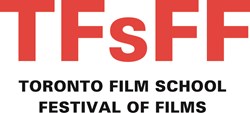 Toronto, Ontario (PRWEB) August 19, 2013
On Thursday, August 29th, the Toronto Film School will be hosting the 1st annual Festival of Films at the Cineplex Odeon Theatres. The Festival will showcase and award the outstanding work generated by the students who attend the Toronto Film School's three diploma programs. The Acting for Film, Theatre and TV, Writing for Film and TV, and Film Production students have submitted pieces of great creativity to be considered for an award during the event.
The Toronto Film School invites nominees, students, family members and movie lovers at large to attend this event to show appreciation for the students who create meaningful work in a competitive industry. Final awards will be adjudicated by a panel of judges from the selection committee of faculty and industry professionals. Guests can expect to see riveting content in the following categories:

Short Film
Documentary
Music Video
Commercial
Public Service Announcement
Please visit the Festival of Films Eventbrite Page to purchase tickets and for schedule details.
The Toronto Film School at RCC Institute of Technology is a leading provider of programs that offer a fast track to an exciting career in film, television or theatre. Since 2001, students at TFS have enjoyed a high-energy, hands-on and creative learning environment, mentored by faculty who are highly successful professionals in the field.
If you would like to contribute to this year's Film Festival in a meaningful way, please contact Ana Martins at amartins(at)yorkvilleu(dot)ca for our Sponsorship Package.