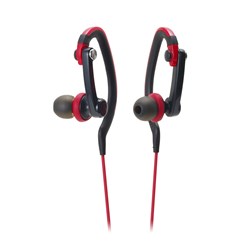 When students go back to school, they'll need to study hard – but when they need to relax, they can enjoy their favorite music on Audio-Technica headphones.
STOW, Ohio (PRWEB) August 16, 2013
When students go back to school, they'll need to study hard – but when they need to relax, work out or recharge, they'll want to enjoy their favorite music. Audio-Technica is featuring a selection of QuietPoint® Noise Cancelling noise-cancelling, SonicSport fitness-oriented and Solid Bass headphone models that are popular with students.
For review samples and additional information, contact Frank Doris at frankdoris(at)optonline(dot)net or 631-645-5668.
ATH-ANC33iS QuietPoint Noise-Cancelling Communications Headphones (SRP: $79.95)
The in-ear ATH-ANC33iS is ideal for when students want to listen to their favorite music and block out the hustle and bustle of the dorm or campus. It offers up to 90% noise-cancellation and features a volume control with an inline mic/control for answering calls and controlling music.
The ATH-ANC33iS supports most smartphones including iPhone™, iPad® and many iPod® models. The controller enables the user to answer and end calls, play or pause music, and go to the next or previous track.
The headphones are supplied with Comply Foam™ Tips for unmatched comfort. The Comply ear tips are made out of special memory foam that expands to fit comfortably in the ear canal, for a more sound isolating fit and superior sound quality with better bass response, a detailed midrange and extended treble. The headphones also come with standard silicone eartips in S, M and L, a soft carrying case, an airline adapter and an AAA battery.
SonicSport ATH-CKP200 and ATH-CKP500 Headphones (SRP: $39.95, $59.95)
Audio-Technica's in-ear SonicSport ATH-CKP200 and ATH-CKP500 headphones with controls for iPhone, iPad and iPod are designed for stay-in-place fit for jogging, exercising and active students. Each has an IPX5-certified waterproof rating and is sweat-proof and washable.
The ATH-CKP200 has a hinged ear hook that adjusts around the ears to provide a custom fit for any wearer, and comes in a variety of appealing colors including black, red, white and blue. It's supplied with both standard silicone and ridged XS/S/M and L eartips to provide a choice of greater sound isolation or allowing in a low amount of ambient sound for greater safety outdoors. The ATH-CKP200 comes with a cord clip and 2-foot (0.6 m) extension cord.
Audio-Technica's ATH-CKP500 in-ear headphones feature a new C-shaped design that nestles in the ear to provide a stable, comfortable fit even during intense workouts. Their angled housings direct the cord behind the wearer's neck so it stays out of the way. The ATH-CKP500 comes with XS/S/M and L standard sound isolating and ridged eartips that let in some ambient sound, a cord clip and a 2-foot extension cord.
Solid Bass ATH-WS55 Headphones (SRP: $99.95)
Audio-Technica's ATH-WS55 Solid Bass headphones deliver impactful bass, along with smooth, accurate midrange and treble. The over-ear headphones are designed for those who want to hear their music with power and punch, and listen to hard rock, hip-hop, metal, electronica and other bass-driven music the way they were meant to be heard.
Click here for Audio-Technica's "Audio 911" YouTube video featuring dancer Marquese Scott who responds to the impact of Solid Bass headphones in a surprisingly revitalizing way.
Audio-Technica's Solid Bass technology utilizes the company's Double Air Chamber System. In addition to the main air chamber that houses the driver, the earpieces have an additional air chamber that naturally expands the bass output without affecting the highs or mids, leaving listeners with the clarity A-T is known for, with a rich, full, punchy bass.
Available in black and black/red, the ATH-WS55 features large-diameter drivers and powerful rare-earth magnets to convey music with presence and impact. The earpads on the ATH-WS55 further enhance bass response by providing an acoustic seal, preventing sound leakage.
Audio-Technica headphones are currently available at http://www.shopaudiotechnica.com, retailers and online sellers – including the ATH-ANC33iS at RadioShack and Best Buy Magnolia Home Theater stores, and ATH-CKP200 and ATH-WS55BK at Staples.
Celebrating over 50 years of audio excellence, Audio-Technica is renowned worldwide for a broad range of consumer and professional audio products, including high-performance headphones, microphones, wireless systems, turntables and phono cartridges. Winner of numerous industry awards, Audio-Technica designs and manufactures products that set quality, durability and price/performance standards for major concert tours, broadcast and recording studios, corporate and government facilities, theaters, house-of-worship venues, and consumer applications. Learn more at http://www.audio-technica.com.
# # #

For more information on the complete range of Audio-Technica products, contact Karen Emerson, Audio-Technica U.S., Inc., 1221 Commerce Drive, Stow, OH 44224. Tel: (330) 686-2600.
For further information regarding product availability and pricing in the United Kingdom, please contact Harvey Roberts (hroberts(at)audio-technica(dot)co(dot)uk); in Germany, please contact Anja Groth (a.groth(at)audio-technica(dot)de); in the rest of Europe, please contact Evangéline Pirot (epirot(at)audio-technica-europe(dot)com).
Apple, iPod, iPad and iPod touch are trademarks of Apple Inc., registered in the U.S. and other countries. iPhone is a trademark of Apple Inc.