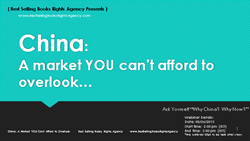 China is hungry for Western Literature from almost every genre out there.
(PRWEB) August 16, 2013
Best Selling Books Rights Agency, an agency focused on providing international copyright representation and digital distribution for the self-published author community, hosted an educational webinar last week in which more than 120 authors participated. The webinar featured a 60 minute in-depth discussion on the China Book Market for authors and was presented by the Director of BSBRA, Kait Neese. The session followed with a 30 minute live Q&A where over 15 individual author questions were solved.
Best Selling Books Rights Agency (BSBRA) provides authors with market research on the Publishing Industry in China. Their goal is to make available the information necessary to authors so they can in-turn make informed decisions when deciding to test new markets. With an office in Beijing, BSBRA has formed several partnerships with Chinese Government approved import agencies, foreign language bookstores and national distributors in order to provide self-published authors with entry points into China.
"China is hungry for Western Literature from almost every genre out there," said Kait Neese, Director of BSBRA "With the globalization of publishing and the digital transformation taking place because of the internet there is no reason why you shouldn't be actively selling and promoting your titles (online) in other countries."
The webinar hosted on August 6th at 2:00pm EST has also been made available in "On-Demand" form and can be found by visiting BSBRA. The Webinar's Agenda titled "China: A Market You Can't Afford to Overlook" focused on a discussion around the following agenda items:
-Why China? Why Now?
-Understanding China's Publishing Channels
-China Entry Options for Authors and Publishers
-Digital Marketing Strategies (China Internet Landscape)
BSBRA has also declared August the "Month of China" for Authors. In a recent announcement made to their authors they commented that this month will be themed "The China Advantage" and a series of activities and educational material that will be presented during their month long promotion on all things China related for authors. To receive this newsletter visit http://www.bestsellingbooksrightsagency.com for more details.
For more information on how to access the on demand version of the webinar or to discuss your "Get into China" strategy with one of their agents directly please contact Bookfairs(at)BestSellingBooksRightsAgency(dot)com.