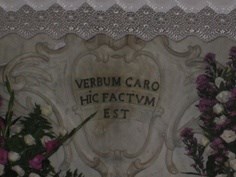 He was Right Here
(PRWEB) August 17, 2013
Tekton Ministries, a pilgrimage company based in Indiana that specializes in pilgrimages to the Holy Land with the Franciscans is excited about all the new finds and renovations at the Basilica of the Annunciation and the Crypt of the Church of St. Joseph and surrounding area.
Richard Sontag, Director of Tekton Ministries says, "There is so much more to see, to experience in this amazing place." He adds, "It was in Nazareth, in a cave, that the Word became flesh, where Jesus took on human form in the womb of the Virgin Mary."
Through archaeological excavations, floral motives have been found inside the Grotto and numerous crosses etched into the wall outside the Grotto are clearly visible. Tiny fragments of painting found have been pieced together to provide a clearer picture of what the original Grotto may have looked like.
Sontag says, "Pilgrims can now actually view firsthand some of these findings, touch them, the very places that Jesus might have touched." He continues, "It's an important connection just like when one touches the tomb of Christ and thinks, 'He was right here'."
He goes on to say that pilgrims find Nazareth to be more familiar, more laid back and therefore, they can relate more to this place. "It is where Jesus lived a life similar to ours," he adds.
Nazareth is the town where Mary and Joseph raised Jesus. Joseph worked in his carpenter shop which is believed to have been located in one of the numerous caves that are now located below the Church of St. Joseph. Here in the Crypt of the Church of St. Joseph are also found ancient water pits, mosaics and additional carvings.
There has been some renovating going on in the Crypt as well. The access stairs have been improved and they also now include a ramp for handicap access. This along with the additional land outside that was purchased by the Franciscans makes the area much more pilgrim friendly.
The Basilica of the Annunciation is one of the most important sites in Christianity and the Franciscans have worked hard to enable more pilgrims to experience more vividly what life was like for Jesus, Mary and Joseph.
For information on pilgrimages, go to http://www.tektonministries.org/.