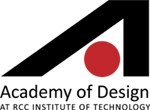 Toronto, Ontario (PRWEB) August 19, 2013
The Academy of Design at RCC Institute of Technology is proud to announce the Interior Design Programs have been appointed a new Program Chair. Laura Fyles has previously held the position of Head of Studio and Program Coordinator for the Interior Design Programs at the Academy of Design. Working closely with the Assistant Dean of Academics, she has assisted in building a team of core faculty and implementing a high standard of academic governance to the Interior Design programs.
Not only has her work at the Academy of Design equipped her for this new role, but she also has an impressive background of education and professional accomplishments in the Interior Design industry. Her education background consists of a Bachelor of Interior Design from the University of Manitoba, and a Master of Design, Strategic Foresight and Innovation from OCADU. She holds the professional designations of NCIDQ, LEED AP and BCIN, whilst maintaining membership with ARIDO, IDEC and IDC. Laura Fyles brings 20 years of Canadian and international interior design experience.
The Bachelor of Interior Design Program at the Academy of Design is designed to produce creative Interior Designers who pursue a passion for improving the spaces in which people live, work and play. The program can be completed in less time than a traditional Bachelor degree with flexible online and in-class courses. Graduates are equipped with the practical skills and creative adaptability needed to design commercial and residential spaces, and are accepted as intern members of ARIDO and IDC.
The Academy of Design is pleased to have Laura Fyles' leadership in guiding students towards fulfilling careers in the interior design industry. The program shall benefit from her professional expertise and passionate approach to design. Join the Academy of Design in congratulating the new Interior Design Program Chair.
The Academy of Design offers other fast track programs for passionate students. Since 1983, the Academy of Design has been helping students from all over the world develop into skillful designers and entrepreneurs while making valuable peer and industry connections.