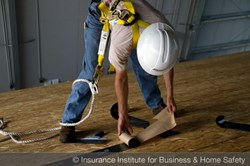 Your home's first line of defense, and its most vulnerable, in the face of high winds and wind-driven rain from a hurricane is your roof.
Tampa, Florida (PRWEB) August 16, 2013
Previous hurricanes are a reminder that residents in hurricane-prone states along the Gulf Coast and Atlantic Seaboard need to prepare their homes now before the next storm hits, according to the Insurance Institute for Business & Home Safety (IBHS). Hurricane Charley made landfall in Florida nine years ago this week as a Category 4 storm, killing 20 people and causing $7.4 billion ($8.9 billion in 2012 dollars) in insured losses during its nearly weeklong rampage from the Caribbean Sea to the U.S.
IBHS conducted a study following Hurricane Charley, which found that homes built to newer building codes suffered 40 percent less damage than those build to older codes. In addition, 60 percent fewer insurance claims were filed for homes built to newer codes that include high wind provisions, which are critical to reducing property damage from the punishing winds that hurricanes can bring.
Your home's first line of defense, and its most vulnerable, in the face of high winds and wind-driven rain from a hurricane is your roof. Watch this video from testing at the IBHS Research Center to see what high winds can do to your home's roof. If you are building a new house or re-roofing your current home, IBHS offers several recommendations:
1) Seal your roof deck – Seal your roof deck using "peel and stick" tape along your roof seams, or a "peel and stick" membrane over the entire roof deck, or apply polyurethane foam.
2) Re-nail your roof deck – Re-nail the roof deck using ring shank nails instead smooth nails or staples to provide a stronger wind-resistant connection to the roof framing. This should be done when you are replacing your roof, and the roof cover and underlayment have been removed.
3) Ensure soffit connections are strengthened – When soffit materials are blown off, wind and water damage can occur to the roof decking, attic and possibly the home's interior. IBHS research found soffit materials missing in approximately 75 percent of homes that suffered significant hurricane damage.
4) Install high-wind rated roof covering and vents – Choose roof products that are rated for high winds and water intrusion and make sure they are properly installed according to manufacturer's directions or local code requirements, if they are more restrictive.
5) Create a continuous load path – Creating a continuous load path means tying the roof to the walls and the walls to the foundation with metal connectors (this is recommended during a renovation or new construction).
Directions on how to make these roof improvements and other building safety resources are available at IBHS' DisasterSafety website.
# # #
IBHS is an independent, nonprofit, scientific research and communications organization supported by the property insurance industry. The organization works to reduce the social and economic effects of natural disasters and other risks on residential and commercial property by conducting building science research and advocating improved construction, maintenance and preparedness practices.