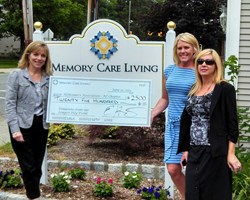 With every dollar we raise and every person we make more aware of the challenges faced by the Alzheimer's community, we get closer to finding a cure.
- Erik Hammerquist
Ramsey, NJ (PRWEB) August 19, 2013
Memory Care Living, a provider of specialized housing and care for older adults with Alzheimer's or dementia, today announced that it raised $2,500 for the Alzheimer's Association through its Longest Day event. This was Memory Care Living's first year participating in the event, which took place at its Princeton and Ramsey homes. The Longest Day is a national event hosted annually by the Alzheimer's Association to raise funds and awareness for the disease.
"At Memory Care Living, specialized memory care is at the heart of everything we do. Alzheimer's disease is the sixth-leading cause of death in the U.S., yet it has no cure, prevention or treatment plan," said Erik Hammerquist, Senior Vice President of Operations at Memory Care Living. "It is our mission to do everything within our power to work toward a cure, so participating in the Longest Day event was a natural fit for us. It was a fun day, and we look forward to expanding next year."
The Alzheimer's Association's Longest Day is held on the longest day of the year each year – the summer solstice. The sunrise-to-sunset team event is intended to honor the strength, passion, and endurance of those facing the disease. More than 700 teams around the world participate each year, hosting events from basketball tournaments to half-marathons, and dance-offs to card game tournaments.
Memory Care Living's 16-hour event at two of its homes in Princeton and Ramsey, New Jersey, involved a memory walk, live entertainment, food, and dancing.
The event was attended by staff, residents, family members, citizens, and other senior living industry professionals.
"Next year, we hope to get even more of the community involved in our event. With every dollar we raise and every person we make more aware of the challenges faced by the Alzheimer's community, we get closer to finding a cure," added Hammerquist.
Memory Care Living provides ongoing care and support services for people with Alzheimer's and dementia, in a home-like environment. Located in 12 residential communities across northern and central New Jersey, each home offers private bedrooms, comfortable community rooms, and home cooked meals each day. At one fixed rate that does not fluctuate based on the level of care, Memory Care Living allows residents to age in place without the stress of fluctuating costs.